Neil Munro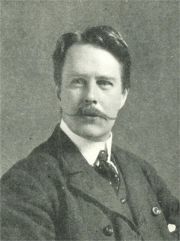 Born June 3, 1863 - Died December 22, 1930
Neil Munro was a Scottish writer.
Munro was born on June 3rd, 1863 in Inveraray, Scotland. He was the illegitimate son of Ann Munro, a kitchen maid. The name of is father is not known, on Munro's death certificate it lists his father as James Thompson Munro, although this is unlikely since Munro is his mother's maiden name. Munro was raised by his maternal grandparents and aunt. He attended Glencaddie Primary School and Church Square Public School, leaving at the age of 14. Afterward he spent five years working in the office of the Sheriff Clerk of Argyll. This was a prestigious position and has caused some to speculate he had unknown influential family connections.
After leaving his position with Sheriff Clerk of Argyll, Munro traveled to Glasgow. Initially he found work as a cashier in an ironmonger's shop. Eventually he turned to journalism and worked for a variety of papers including, Greenock Advertiser, the Glasgow News and the Falkirk Herald. Most notably he worked for the Glasgow Evening News (GEN). It was through GEN his most notable work was published. A series of stories about a Clyde puffer, a coal powered cargo ship, captained by Peter Macfarlane, more commonly known as Para Handy. Munro published the stories under the pen name of Hugh Foulis.
In 1902, Munro retired from journalism to focus on writing books. Most of his books were historical in nature set in the 17th and 18th century. They included a called John Splendid set around the campaign of James Graham, 1st Marquess of Montrose, during the First English Civil War (1642–1646) and Doom Castle set around the Jacobite uprising of 1745. His final was The New Road, referencing General Wade's military road, a series of roads built during the Jacobite uprising in the Highlands of Scotland to try to restore order in the area. The book itself centered around a young man who travels into the Highlands in search of his father who was lost in a battle 15 years prior. All of Munro's novels are considered revisionist history, casting the Jacobites as the villains and Clan Campbell, who supported the British Government, as the heroes.
In 1914, Munro returned to journalism. His return was affected by his poor health and the loss of his son during World War I.
Munro knew many of the writers of the time, including J.M. Barrie. He also was one of the first to promote the works of Rudyard Kipling.
Munro passed away on December 22nd, 1930.
Munro was a member of Inveraray St John Masonic Lodge No 50. At the turn of the 20th Century he held the position of Lodge Bard.