Philip Wharton, 1st Duke of Wharton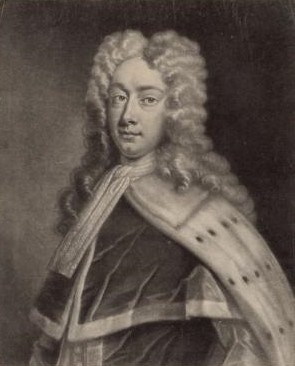 Born December 21, 1698 - Died May 31, 1731
Philip Wharton, 1st Duke of Wharton was a British politician.
Wharton was born on December 21st, 1698. He inherited the title of Duke of Wharton at the age of 16. He was one of only a few people in English history who was raised to a Dukedom as a minor who was not related to the Monarch. At the time he was the first to be raised to a Dukedom since the 15th century. Only a month after inheriting his title, Wharton eloped with his girlfriend. The young couple had a child in 1719, although it passed away a year later from a small pox outbreak. Wharton cared little for his wife afterward.
While still 18, Wharton traveled around Europe and had an audience with James Francis Edward Stuart, also known as the "Old Pretender" and in some areas of Europe James III. It was at the meeting with him Wharton was made Duke of Northumberland. After his visit with James III he began to sign his name as Phillip James Wharton to show his allegiance with the Jacobite cause.
When Wharton returned to England he entered politics and was sought after as an ally for any political cause. None more importantly than the Jacobite cause. He was largely sought after for his ability as a powerful speaker, his elegant writing and, at least initially his wealth.
In 1719, Wharton is credited with founding the first Hellfire Club. Although similar in purpose it was not related to the more commonly known Dashwood's Hellfire Club which Benjamin Franklin was alleged to have been a member.
Wharton's fortunes turned quickly. By 1720, the South Sea Bubble stock market crash had occurred. The South Sea Company was created by the British Government to help manage debt, the company was given a monopoly for trade with South America. Because of the Britain's involvement with the Spanish war of secession no trade was able to occur despite the monopoly. Wharton lost much of his fortune and he was already in debt before the crash. Despite his massive financial loss, Wharton hired musicians and a hearse to perform a funeral service for the South Sea Company.
By 1725, Wharton was so deeply in debt there was no way for him to repay his creditors. He sought a position with the Jacobites as Ambassador to the Holy Roman Empire in Austria. The Austrians did not like him because of his, at times, immoral behavior. He drank heavily, among other vices. Eventually he began stealing food from acquaintances and seeking money wherever he could get it. He eventually sold back his title to George I before taking a position in the Jacobite forces as a lieutenant colonel. This led to him being tried for treason in England and he never returned home.
On June 1st, 1731, Wharton passed away in the advanced stages of alcoholism.
In 1723, Wharton was the Grand Master of the Premier Grand Lodge of England. Most notably at his final meeting he sought to have a by-law passed, not allowing the new Grand Master to appoint his Deputy Grand Master, instead Wharton wanted to see the position elected. When the motion failed, the records indicate Wharton "retired without ceremony" most likely meaning he walked out without properly being relieved by his successor. He went on to be the Grand Master of the Grand Lodge of France, which was closely tied with the Jacobite cause.
Another notable item Wharton is known for is his connection with the group Gormogon. It is most commonly believed an angry Wharton started it to get back at the fraternity sometime after he was Grand Master. It seemed to only exist for a short time and after Wharton's passing, there was little or noting heard from the group.