Philipp Gotthard von Schaffgotsch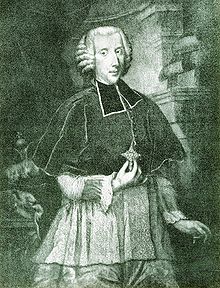 Born July 3, 1716 - Died January 1, 1795
Philipp Gotthard von Schaffgotsch was a German clergyman.
Gotthard was born on July 3rd, 1716 in Bad Warmbrunn in the Riesengebirge mountains. He was educated by the Jesuits at the Collegium Romanum in Rome, Italy.
In 1738, Gotthard was ordained a Roman Catholic Priest in Vienna. He was appointed the canon in Olomouc, Halberstadt and later in Breslau. Despite having serious disagreements with the Vatican, particularly on the matter of Freemasonry, in 1743 he was elevated to coadjutor bishop, a person assigned to assist in the administration of a diocese in the Roman Catholic Church, of Breslau to Prince-Bishop Philipp Ludwig von Sinzendorf. After Sinzendorf passed away in 1747, Frederick the Great elevated Gotthard to the position of Prince-Bishop. This was confirmed the following year by Pope Benedict the XIV.
In 1757, when the seven years war broke out, Gotthard moved the seat of the diocese from Breslau to Austria. This was seen by Frederick the Great as a betrayal and Frederick moved the Breslau diocese under official administration. In 1763, Gotthard was allowed to move back to the Prussian part of the diocese, although he was restricted in his movements. He made several calls to Frederick the Great to reinstate him and none were answered. Eventually Frederick assigned the axillary bishops to oversee the Prussian portion of the diocese.
In 1766 Gotthard moved to castle Jánský Vrch in Austrian Silesia where he lived out the remainder of his life. Gotthard passed away on January 5th, 1795.
Most indications show that Gotthard became a Freemason somewhere around 1738. Regardless of whether he actually did join Freemasonry, this was a serious point of contention between Gotthard and the Vatican. It was in 1738 that Pope Clement XII condemned Freemasonry in his Papal Bull In eminenti. It is also believed that Gotthard supported the creation of the first masonic lodge in Vienna, the Austrian capital.