Prince Leopold, Duke of Albany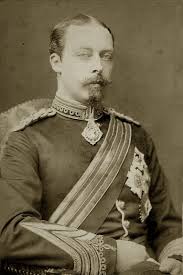 Born April 7, 1853 - Died March 28, 1884
Prince Leopold, Duke of Albany was a member of the British royal family.
Prince Leopold was born on April 7th, 1853. He was born in Buckingham Palace, London, England. He was the son of Queen Victoria. Prince Leopold inherited hemophilia from his mother and was a delicate child, he also had a mild case of epilepsy. From a young age Prince Leopold showed himself to be quite intelligent.
In 1872, Prince Leopold began attending Christ Church at Oxford University. There he became the President of the Chess Club, the game became a joy for Prince Leopold throughout his life. He graduated with an honorary Doctorate in Civil Law in 1876.
After graduation Prince Leopold traveled extensively with his sister and brother-in-law who at the time was Governor General of Canada.
Despite his illnesses, Prince Leopold held an honorary position 72nd Regiment, Duke of Albany's Own Highlanders. In 1881 he held the position of first Colonel-in-Chief for the Seaforth Highlanders when the 72nd merged with the 78th regiment.
Prince Leopold felt stifled by his mother and saw marriage as his only way out. He ended up dating several women, the courtships for the most part ended amicably. After several disappointments for the Prince, Queen Victoria arranged a meeting between Prince Leopold and Princess Helene Friederike. The couple were married in 1882. They had two children. This was rare for a male with hemophilia to live long enough to have offspring.
In 1884, Prince Leopold went to Cannes, France on doctors orders. Hemophilia causes join pain and winters in England were an uncomfortable time for the Prince. While in Cannes, Prince Leopold slipped and fell, hurting his knee and hitting his head. The following day he passed away from what appeared to be a cerebral hemorrhage.
Prince Leopold passed away on March 28th, 1884.
Prince Leopold was an active mason. He was initiated into Apollo University Lodge while at Oxford. His brother Albert Edward, Prince of Wales was the master of the lodge at the time. From 1876-1877, Prince Leopold was the Master of Apollo University Lodge. He was later named Provincial Grand Master for Oxfodshire, a position he held until his passing.