Prince Philip, Duke of Edinburgh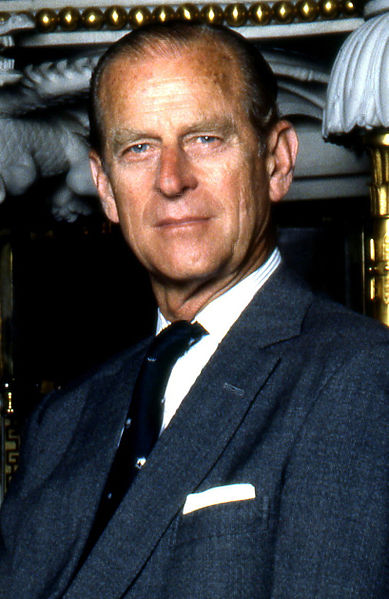 Born June 10, 1921 - Died
Prince Philip, Duke of Edinburgh is husband and consort of Queen Elizabeth II.
Prince Philip was born Prince Philip of Greece and Denmark on June 10th, 1921in Mon Repos on the Greek Island of Corfu. He was the only son and the fifth and final child of Prince Andrew of Greece and Denmark and Princess Alice of Battenberg. Phillip's maternal grandfather had adopted the name Mountbatten during World War I after he renounced his German titles, Phillip later adopted the same name. When Phillip was still an infant, the Greco-Turkish was was being waged. Things went poorly for the Greeks and Phillip's family was forced to flee Greece for France. Phillips first went to school at an American School in Paris. In 1928 he was sent to England to attend Cheam School. Over the next three years, Phillip's sisters married German noblemen and moved to Germany. In 1933 Philip was sent to Schule Schloss Salem, a German boarding school it's founder, Kurt Hahn, was Jewish and was persecuted in the early days of Nazism in Germany. Hahn fled to Scotland and opened a new school, which Phillip transferred to after two terms in Salem. In 1937, Phillip's sister Cecilie, along with her husband, two sons and mother-in-law, were killed in a plane crash.
In 1939, Philip left school and joined the Royal Navy attending the Royal Naval College in Dartmouth, England. It was at the college he first met, then princess, Elizabeth. King George VI, Elizabeth's father, asked Phillip to escort Elizabeth and her sister Margaret. Elizabeth was thirteen at the time and the two began exchanging letters.
In 1940, Phillip graduated from the Royal Naval College, as the best cadet in his course. Phillip served on a variety of ships during World War II. Notably he was mentioned in dispatches, a term referring to a commanding officer mention a person by name in reference to gallant or meritorious actions, for his actions during the Battle of Cape Matapan. By 1942 he was promoted to first lieutenant and was one of the youngest at the age of 21. In 1943, as second in command he saved his ship from a night bomber attack. He devised a plan to launch a raft with smoke floats successfully distracting the bombers allowing the ship to slip away. By 1944 he was stationed on the HMS Whelp which was sent to the Pacific and was present in Tokyo Bay when the Japanese instrument of surrender was signed. By 1946, Phillip was back in England and assigned as an instructor on the HMS Royal Arthur, the Petty Officers' School in Corsham, Wiltshire.
In the summer of 1946, Phillip asked King George VI permission to marry Princess Elizabeth. The King agreed provided any formal engagement wait until Elizabeth's twenty-first birthday in April of 1947. By the March before the engagement, Phillip had abandoned his Greek and Danish Royalties and adopted the surname Mountbatten. He was also a fully naturalized British citizen. Princess Elizabeth and Phillip were married in Westminster Abbey later in 1947. Their wedding was broadcast live on BBC Radio to over 200 million listeners. Phillip's three remaining sisters were not allowed to attend the wedding due to their German husbands, some with ties to the Nazis.
After their marriage, Phillip remained in the Navy. He eventually attained the rank of Commander before leaving the service. His active career ended in 1951. It was around this time the King was ill in health, Elizabeth and Phillip were appointed to the King's privy council before they set out on a coast to coast tour of Canada and a tour of the British Commonwealth. While they were in Kenya in February of 1952, news reached the couple the King had passed away. Phillip was the one who broke the news to Elizabeth. The couple returned to England immediately. From the moment Elizabeth ascended to the throne, Phillip has been by her side. The Queen in a speech described him as her "constant strength and guide."
Prince Phillip has been described as "down to earth." An anecdote from a visit to Washington, D.C. where two White House butlers were engaged by Prince Phillip seems to confirm this. The butlers claimed Phillip engaged them in conversation and even poured the two men drinks. In 1957 he stated in reference to republicanism "It is a complete misconception to imagine that the monarchy exists in the interests of the monarch. It doesn't. It exists in the interests of the people. If at any time any nation decides that the system is unacceptable, then it is up to them to change it." Phillip has also run into trouble from time to time with his sharp wit where some have called him insensitive, this generally is from people outside the situation looking in.
It should also be noted when Princess Diana was killed in a car accident in Paris, Mohamed Fayed, father of Dodi Fayed, who was also killed in the accident accused Prince Phillip of ordering Diana's death. This was just a year after the divorce of Princess Diana and Prince Charles. An investigation found no conspiracy surrounding the death of Princess Diana.
Prince Phillip was the patron of many charities.
Prince Phillip is the longest lived male member of the British Royal Family. The record for the longest lived descendant of Queen Victoria is currently at 95 years, 6 months and five days. Prince Phillip will surpassed the record on December 13th, 2016.
Prince Phillip passed away on April 9th, 2021.
Prince Phillip joined Navy Lodge No 2612 in London, England in 1953.