Ralph Cookerly Wilson, Jr.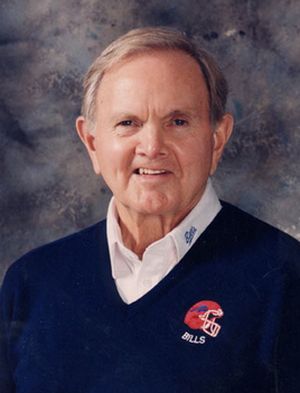 Born October 17, 1918 - Died March 25, 2014
Ralph Cookerly Wilson, Jr. was an American businessman and National Football League team owner.
Wilson was born in Columbus, Ohio on October 17th, 1918. He grew up in Detroit, Michigan. He graduated from the University of Virginia and later attended the University of Michigan Law School.
During World War II, Wilson enlisted in the United States Navy. He served in both the Pacific and Atlantic theaters. When he returned home after the war, he took over his father's insurance business. Always on the look out for business opportunities he began purchasing local manufacturing and construction firms. He also bought television and radio stations.
Wilson was a minority owner of the Detroit Lions of the National Football League (NFL). He heard that Lamar Hunt, who had been denied a team in the NFL, was going to start a new league called the American Football League (AFL). Wilson first tried to put a team together in Miami, and was denied. He then went to his second choice Buffalo. In 1959, Wilson sent Hunt a correspondence that said "Count me in with Buffalo." He named the team the Bills after a previous football team in the short lived All-American Football League. On October 28th, 1959, the Bills officially became the 7th team in the American Football League. Wilson signed such players as Cookie Gilchrist, Jack Kemp, Tom Sestak and Pro Football Hall of Famer Billy Shaw.
Wilson as one of only three owners that was financially sound, he worked with the owners who were not in sound financial condition to help keep the league in operation. He provided funds to the Oakland Raiders and the New England Patriots. The AFL has the unique distinction that in it's approximately 10 year history none of it's teams folded. In 1966, the NFL and AFL announced the merger of the two leagues. As part of the announcement starting in 1967 the champions of the NFL and AFL would meet to decide the overall title. It was also announced that officially a combined schedule would being in 1970.
Wilson retired as the President of the Buffalo Bills in 2001, retaking control in 2006. He retired a second time on January 1st, 2013, this time he stayed in retirement, although he remained in communication with Russ Brandon, the new President, regarding issues with the team and league.
Wilson passed away on March 25th, 2014 of natural causes at the age of 95.
Wilson was a member of Kilwinning Lodge No. 297 in Detroit, Michigan.