Roger Lumley, 11th Earl of Scarbrough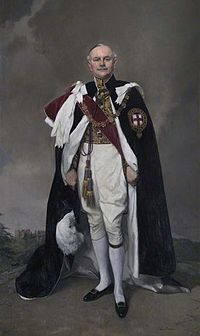 Born July 27, 1896 - Died June 29, 1969
Roger Lumley, 11th Earl of Scarbrough was an English peer, soldier and politician.
Lumley was born on July 27th, 1896. He attended Eton College and Magdalen College, Oxford before following in his father's footsteps and going in to the Army.
In World War I, Lumley served in the 11th Hussars in France. He was also attached to the the Yorkshire Dragoons.
After the war, Lumley went into politics and served twice in Parliament. The first time representing the constituency of Hull East from 1922 to 1929. In 1931 he was elected as Member of Parliament for York. He served in the post until 1937. During his time in Parliament he also served as Parliamentary Private Secretary for the Under-Secretary of State for the Colonies and the Secretary of State for Foreign Affairs.
In 1937, Lumley was appointed Governor of Bombay. He held the position until 1943. When he returned from India, Lumley served as acting Major-General in World War II. After the war he continued to be connected with the Army as an honorary colonel.
Additionally Lumley served as Lord Chamberlain, whose job it is oversee the departments which support and provide advice to the Sovereign of the United Kingdom. He also served as the Chancellor of the University of Dunham from 1958 to 1969.
Lumley also had an interest in Asian and African studies. After World War II, Lumley presided over the Interdepartmental Commission of Enquiry on Oriental, Slavonic, East European and African Studies. The purpose of the committee was to consider how Britain maintained and increased it's links with the regions it had built up during the war. In 1947, the Commission argued for considerable increases in funding at universities for those studies. By 1952 most of the funding was withdrawn.
Lumley passed away on June 29th, 1969.
Lumley was a Grand Master of the United Grand Lodge of England from 1951 until 1967.