Thomas Michael Holt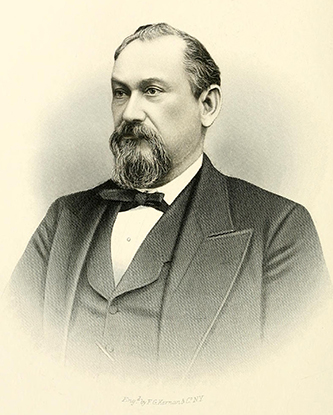 Born July 15, 1831 - Died April 11, 1896
Thomas Michael Holt was an American industrialist and politician.
Holt was born on July 15th, 1831 in Almanac County, North Carolina. He studied at the University of North Carolina, Chapel Hill for one year before moving to Philadelphia to work in a dry goods store.
In 1858, Holt and his father acquired a bankrupt textile mill. This was the beginning of the Holt family empire. Holt's father was long established in the textile industry. In 1837, just six years after Holt's birth, Holt's father was the first to manufacture Almanac-Plaid which was produced on the first power looms in the south. This started the southern textile industry. Over the years the family acquired various textile mills and individuals mills were sold off by family members.
In 1876, Holt entered politics. He served in the North Carolina state senate in 1876. He served in the North Carolina House of Representatives from 1883-1887. In 1889 he was elected Lieutenant Governor and moved to being Governor in 1891 when the sitting governor passed away in office.
Holt served as Governor until 1893. During his term in office he was involved with a variety of things. Mostly with education and the railroad in North Carolina. While in office he helped to establish the Western North Carolina Railroad and the Cape Fear and Yadkin Valley Railway as well as the North Carolina Railroad. He is also credited with founding North Carolina State University.
Holt passed away on April 11th, 1896.
Holt was raised in Alamanc Lodge No. 133, Graham, North Carolina. in 1863. In 1865 he served as Junior Warden in the lodge. The lodge became inactive in 1878 and was reconstituted in 1898 when it was renamed Thomas M. Holt Lodge No. 492 in honor of Holt. Holt was also a member of Graham Chapter No. 28, Royal Arch Masons (R.A.M.), which is part of York Rite. He served in his chapter as Master of the 3rd Veil for 3 years.