Thomas Smith Webb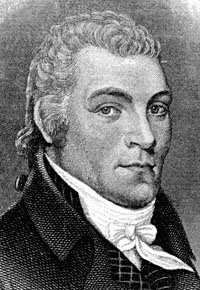 Born October 30, 1771 - Died July 6, 1819
Thomas Smith Webb was an American author and founder of the York or American Rite.
Webb was born on October 30th, 1771 in Boston, Massachusetts. He attended Boston public schools, it was there that he developed a love for and a study of music. At the age of 16 he was apprenticed to a Boston area printer. A few years later he moved to Keene, New Hampshire. Once in Keene, he would begin his masonic journey in Rising Sun Lodge.
In 1793, Webb moved to Albany, New York. There he established a paper staining company. In 1797, he would publish The Freemason's Monitor, or Illustrations of Masonry. The book is now very rare to find an original copy. The book consisted of twp parts. In the second, Webb placed an account of the "Ineffable Degrees of Masonry." He also included various masonic themed songs that he himself wrote. It was also in Albany that Webb got his first taste of Royal Arch Masonry which is the first body of the modern York Rite. He formed a Temple Royal Arch Chapter and became it's High Priest, which is the highest officer in a Chapter of Royal Arch Masonry.
In 1799, Webb moved to Providence, Rhode Island. By this time his reputation in masonic circles was well established. He was invited to join Providence Royal Arch Chapter. He also joined St. John's Lodge No. 1. As a member of a lodge under the Grand Lodge of Rhode Island he was able to attend the Grand Lodge session. Which he did at his next opportunity. He was immediately put on the constitutions committee and two significant pieces of legislation were adopted as amendments. The first allowed any officer to serve more than two years in any office. The second allowed a brother who was a member of a Rhode Island Lodge and who had served as a Worshipful Master in another jurisdiction, which Webb had, to serve as the Grand Master of Rhode Island.
Sometime around or before 1804, Webb along with other brothers formed the Grand Chapter of Rhode Island. He served as Grand High Priest from 1804 until 1814.
In 1813 and 1814, Webb served as the Grand Master of the Grand Lodge of Rhode Island. During his second term a British Man-o-war appeared in the waters off of Newport, Rhode Island. Many coastal cities feared invasion by British forces so the Governor of Rhode Island directed citizens to build breastworks, a low temporary fortification. Webb called a special communication of the Grand Lodge of Rhode Island and instructed all brothers to bring shovels, spades, pick axes and one day of provisions. After opening the Grand Lodge lodge the brothers retired to Fox Hill and by sunset had created breastworks that were 430 feet long, 10 feet wide and 5 feet high. The structure was named Fort Hiram, a name that was later confirmed by the Governor of Rhode Island.
In 1802, Webb helped to establish St. John's Encampment of Knights Templar, which is no St. John's Commandery No. 1 of Providence. Webb provided the ritual and ceremonial procedure of the Templar Orders. He was elected Eminent Commander, the highest officer in a Commandery of Knights Templar, after the formation of the Commandery and was re-elected every year until 1814 when he declined the position. In 1805, he with others formed what is now the Grand Commandery of Massachusetts and Rhode Island. He presided there until 1817.
In 1816, Webb formed the Grand Encampment of Knights Templar of the United States in New York City, New York. Dewitt Clinton was elected the Grand Master and Webb became the Deputy Grand Master, a position he held until his passing.
Webb passed away on July 6th, 1819.