Victor Luitpold Berger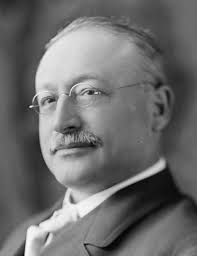 Born February 28, 1860 - Died August 7, 1929
Victor Luitpold Berger was an American politician and political leader.
Berger was born in Nieder-Rehbach, Austria-Hungary which is modern day Romania on February 28th, 1860. Prior to immigrating to the United States in 1878 with his parents, Berger attended major universities in Budapest and Vienna. Initially the family settled in Bridgeport, Connecticut.
In 1881, Berger moved to Milwaukee, Wisconsin. There he joined the Socialist Labor Party and became the editor of two newspapers, the Social Democratic Herald and the Milwaukee Leader. He also taught German in the local public schools.
In 1896, Berger was a delegate for the People's Party convention in St. Louis, Missouri. The following year he became the founding member of the Social Democracy of America organization. In 1898 the group split and the "political action" wing of the group became the Socialist Democratic Party of America (SDP).
In 1901, Berger became a founder of the Socialist Party of America. He was considered the party's leading revisionist Marxists.
Berger ran for Congress in 1904, unsuccessfully. He ran again in 1910 and was elected to the United States Congress. In Congress, he focused on issues relating to the District of Columbia. He also pushed several radical ideas including getting rid of the Presidential veto, abolishing the Senate and the social takeover of major industries. He gained national attention for his old-age pension bill. He also argued for the takeover of all radio-wireless systems. His proposal on radio-wireless systems came shortly after the sinking of the Titanic. He argued radio signals controlled by the government might have prevented the catastrophe. He served only one term until 1912.
During World War I the United States passed the Espionage Act of 1917. Berger, became a target because of his political views. He and 4 other socialists were convicted under the Espionage Act and sentenced to 20 years in Prison. Despite being convicted, Berger was elected to the United States Senate, although a special committee prevented him from being seated. In a new election, he won again and again they denied him his seat. The Senate declared his seat vacated. In 1921, Berger's conviction was overturned by Supreme Court.
From 1922 to 1926, Berger served in the United States Senate. He proposed an old-age pension bill, unemployment insurance and public housing. He also supported recognition of the Soviet Union.
Berger passed away when he was struck by a streetcar crossing the street on August 7th, 1929.
Berger was a member of Aurora Lodge No. 30 in Whitefish Bay, Wisconsin.