William Wyler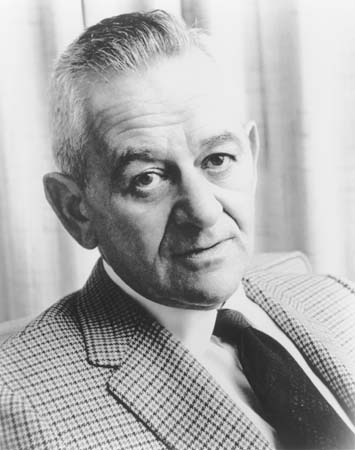 <em><b>Born</b> July 1, 1902 - <b>Died</b> July 27, 1981</em>
William Wyler was an German-born American film director.
Wyler was born on July 1st, 1902 in Mulhouse, Alsace, part of the German empire at the time. His father was Swiss which gave him Swiss citizenship automatically. In his youth Wyler was known as a hell-raiser and was often in trouble and was expelled from school more than once for his behavior.
Wyler's father owned a haberdashery and after World War I, Wyler was put to work in Paris selling shirts and ties. Wyler was not very good at the job and really had no interest in the business. Wyler's mother contacted her distant cousin who was the founder of Universal Pictures and Wyler a job in New York.
After working briefly in New York as a messenger, Wyler moved to California to become a director. Along the way he worked as a stage hand and as an assistant editor until he got his break in 1925 when he was the third assistant director on a film.
By 1928, Wyler become a naturalized citizen of the United States and became the youngest director in the history of Universal Pictures. At first Wyler directed westerns which Universal was famous for producing. Also in 1928 he directed his first non-western. Wyler went on to direct a string of films, leaving Universal in the mid 1930's and working with Samuel Goldwyn.
Wyler had the golden touch when it came to the stars of his movies. Laurence Olivier, whom Wyler directed in Wuthering Heights, received his first Oscar nomination from his work in the film and credited Wyler with teaching him how to act for the screen. This was despite the fact the Olivier and Wyler clashed on multiple occasions. Despite directing many stars such as Barbara Streisand and Charlton Heston to Oscar nominations and awards, Wyler often gave less than helpful direction. On one occasion during the making of Ben Hur, Charlton Heston asked Wyler what was wrong with his performance and how could he do better, Wyler simply replied "Be better!"
During World War II, Wyler was in the Army Air Corp as a Major. He made two documentaries about the Air Corps. One was The Memphis Belle: A Story of a Flying Fortress the other about a fighter squadron. During one of the films Wyler was exposed to a loud noise which rendered him unconscious, when he woke he discovered he was deaf, although some hearing did return in one ear. He left the service as a disabled veteran. Unsure if he was going to be able to work, he directed the film The Best Years of our Lives in 1946. A film about three soldiers returning home from the war and the problems they faced. A very personal film for Wyler, for which he won an Academy Award for Best Director and the film won Best Picture.
In 1959, Wyler's film Ben Hur (based on a book by Lewis "Lew" Wallace) got the record for the most Academy Awards for a motion picture. The record stood until 1997 when Titanic tied the record and in 2003 when Lord of the Rings: Return of the King also received 11 Academy Awards.
Wyler passed away on July 27th, 1981 from a heart attack.
Wyler was a member of Loyalty Lodge No. 529 in California.