Arnold Jacob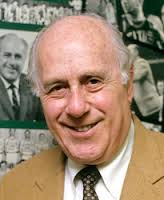 Born September 20, 1917 - Died October 10, 2006
Red Auerbach was an American Basketball Coach.
Auerbach was a coach in the National Basketball Association (NBA). He won 938 games over his career which spanned three teams the Washington Capitals, the Tri-City Blackhawks and Boston Celtics. He also won 9 NBA Championships in 10 years.
When Auerbach retired from coaching he became the General Manager and Team President of the Boston Celtics. During this time he won an additional 7titles. This gave him a grand total of 16 championships in 29 years.
Auerbach was a pioneer on and off the court as well. He introduced the Fast Break as a potent offensive weapon. He was also the first coach to draft and African-American player in 1950. In 1964 he would introduce the first African-American starting five in the league.
Auerbach was famous for his polarizing personality and the cigars that he would spoke. When he felt victory was assured he would light up a cigar. This became the "ultimate symbol of victory" for many during his time with the Boston Celtics.
In 1965 Auerbach won the NBA Coach of the Year award which would be named after him in 1967. Auerbach was inducted to the Basketball Hall of Fame in 1969, named the greatest coach in history in 1980 by the Professional Basketball Writers Association of America and was the Executive of the year in 1980. He was also inducted into the National Jewish Sports Hall of Fame.