Eugène de Beauharnais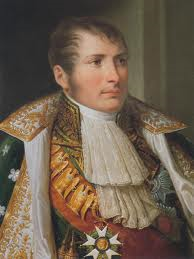 Born September 3, 1781 - Died February 21, 1824
Eugène de Beauharnais was born on September 3rd, 1781 in Paris, France. He was the son of Alexandre de Beauharnais and Joséphine Tascher de la Pagerie. Joséphine would later marry Napoleon I after Eugène's father was killed in The Reign of Terror (1793-1794).
During the Italian campaigns Eugène served as aide-de-camp to Napoleon from 1796 to 1797. Under Napoleon Eugène would command the Army of Italy and would be the Viceroy of Italy under his stepfather. He served from June 1805 to April 1814.
Eugène was adopted by Napoleon in 1806. Napoleon excluded him from being a successor to the Imperial throne.
When Napoleon fell in 1814, Eugène retired to Munich. At the request of his father-in-law, King Maximilian of Bavaria, Eugène had nothing further to do with France or Napoleon.
Eugène passed away on February 21st, 1824.
Eugène de Beauharnais was very active in Freemasonry. He helped to start the Grand Orient of Italy. The Grand Orient of Italy was recognized by the UGLE in 1972. This has since been retracted.