Richard Clough Anderson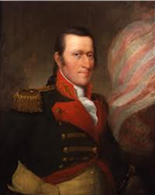 Born January 12, 1750 - Died October 16, 1826
Richard Clough Anderson was an American Revolutionary War officer.
Anderson was born on January 12th, 1750 in Goldmine, Hanover County, Virginia. He was home schooled until the age of 16 when he was apprenticed to a local merchant.
During the American Revolution, Anderson served with the Hanover Minutemen and the 5th Virginia Regiment. He participated in early reconnaissance near Trenton, New Jersey on Christmas day in 1776. He was in the first boat that crossed the Delaware at the Battle of Trenton. Anderson was also very close with General George Washington.
In 1883, Anderson became a member of the Society of the Cincinnati, an organization with branches in the United States and France whose purpose is "to preserve the ideals and fellowship of officers of the Continental Army who served in the Revolutionary War." As the war was ending he was promoted to lieutenant colonel.
After the war, Anderson was given the position of surveyor general for western lands in Virgina. The lands were given to veterans of the Revolutionary War for their service. It was during his work as surveyor general that he created a collection of books including seven entry books, which contained an estimated 4,400 to 4,800 surveys of western lands. Mostly the lands that were surveyed were between the Scioto and Little Miami Rivers in Ohio.
Later Anderson moved to Middletown near Louisville, Kentucky. There he settled down with his family. One of his sons, Richard Clough Anderson Jr. became a United States Senator from Kentucky.
Anderson passed away on October 15th, 1826.
Anderson is believed to have been a member of Fredericksburg No. 4 in Virgina. Regardless of what lodge he was a member of in Virgina. After moving to Kentucky he requested a charter for Lexington Lodge No. 25 in Louisville. Anderson became the first Worshipful Master of the lodge which is now Lexington Lodge No. 1 under the Grand Lodge of Kentucky.