William Plummer Benton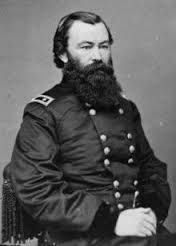 Born December 25, 1828 - Died March 14, 1867
William Plummer Benton was an American lawyer and soldier.
Benton was born December 25th, 1828 in New Market, Maryland. Benton's father passed away when Benton was just 4 months old. At the age of 8 Benton's mother moved the family to Richmond, Indiana. At the age of 15 Benton was apprenticed to a chair maker in Cincinnati, Ohio.
At the age of 18, Benton enlisted as a private in the Army to serve during the Mexican-American War. In the war he was with the mounted infantry and fought in many battles, including in Mexico City.
After the war Benton returned to Richmond, Indiana and began studying law. He was admitted to the bar in 1851 and began practicing law.
In 1852, Benton was elected district attorney for Wayne County serving two years. In 1856 he was elected judge of the Common Pleas court and served only one term ending in 1858.
In 1861, Lincoln called for 75,000 volunteers to fight during the Civil War. Benton raised the first company from Wayne County in response to Lincolns call. He was the captain of the company which was part of the 8th Indiana Volunteer Infantry Regiment. Before long he was elected the regiment's colonel. The 8th Indiana saw many battles during the Civil War, the battles included the Battle of Rich Mountain, the Battle of Pea Ridge, the Battle of Port Gibson and the Battle of Jackson. Before the Battle of Port Gibson, Benton was promoted to brigadier general.
In early 1865, Benton was sent to command a division at the campaign against Mobile, Alabama.
Benton was married in twice, once to Sarah A. Wiggins the couple had three children. Sarah passed away in 1861 from Tuberculosis (called consumption at the time). During the Civil war Benton married a war widow Emma Adolphin Lenhart after a 10 day courtship.
Benton lived the remainder of his life in New Orleans after leaving the war. He passed away there on March 14th, 1867, shortly after being elected to the position of Collector of Internal Revenue for the city.
Benton was a member of Webb Lodge No. 24 and a member of King Solomon Chapter No. 4 Royal Arch Masons.