Herbert Emery Hitchcock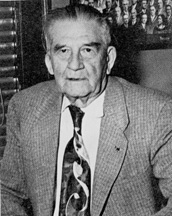 Born August 22, 1867 - Died February 17, 1958
Herbert Emery Hitchcock was an American politician.
Hitchcock was born on August 22nd, 1867 in Maquoketa, Iowa. He attended local public schools in Iowa and later in San Jose, California. At the age of seventeen he moved to Mitchell, South Dakota. From there he went on to attend a business college in Davenport, Iowa, Iowa State College and finally the University of Chicago Law School where he graduated with a law degree.
While he was going to school, Hitchcock worked as a stenographer. He was admitted to the bar in South Dakota in 1896 and opened a law practice in Mitchell. The same year he was a clerk in the South Dakota State Senate.
In 1904 and 1906, Hitchcock was elected as a states attorney. In 1909, he was elected for the first of three non-consecutive terms to the South Dakota State Senate. The other two terms were in 1911 and 1929.
From 1924 to 1934, Hitchcock was the president of the Mitchell school board. He was also a trustee of Yankton College in 1936.
Also in 1936, Hitchcock was appointed to fill a vacated term in the United States Senate as a Democrat. In 1938, he ran for a full term and was defeated in the Democratic primary.
In 1948, Hitchcock ran in the South Dakota Presidential Primary as a Republican, where he won 100% of the vote. He ran as a favorite son candidate, not as a serious candidate. His purpose was to be able to head the South Dakota delegation at the Republican National Convention.
Hitchcock continued to practice law until the time of his passing on February 17th, 1958.
Hitchcock was a member of Resurgam Lodge No. 31 in Mitchell, South Dakota. He was also a member of Oriental Consistory of the Ancient Accepted Scottish Rite, Southern Masonic Jurisdiction.