Rufus Ingalls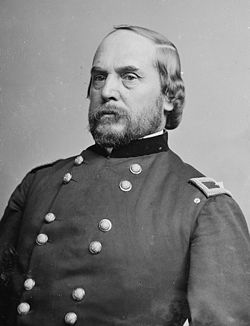 Born August 23, 1818 - Died January 15, 1893
Rufus Ingalls was an American soldier.
Ingalls was born on August 23rd, 1818 in Denmark, Maine (at the time, Maine was still part of Massachusetts). His father was a local business owner and politically well connected. Through his father's political connections, Ingalls secured himself an appointment to the United States Military Academy at West Point. He graduated in 1843 with his good friend and future President of the United States, Ulysses S. Grant.
After graduation, Ingalls was posted to a garrison on the western frontier. In 1845 he joined the First U.S. Dragoons. He served in the Mexican-American War in the New Mexico Territory. He distinguished himself in the skirmish at Eabudo and conflict at Pueblo de Taos.
In 1848, Ingalls was stationed in California where he became a quartermaster. He served the remainder of his military service in the quartermaster corps. In 1849 he was transferred to Oregon Territory and then to Fort Vancouver in 1852. At Fort Vancouver he was reunited with his friend Grant. In 1854, while in Washington, D.C., he received order to accompany the Steptoe Expedition from Fort Leavenworth in Kansas across the continent through the Utah Territory to the Pacific Coast.
During the American Civil War, Ingalls distinguished himself as a quartermaster. He established multiple supply depots for the Army of Potomac. He skillfully was able to evacuate one of those supply depots, White House Landing, during the Seven Day's Battle. He was able to evacuate all personnel as well as all of the supplies from the depot. In 1864, he was appointed by Grant to be in charge of in charge of supply with responsibility for all Federal armies operating against Petersburg and Richmond. His logistics base, City Point, Virginia became the largest port operation in the Western Hemisphere. By the end of the war he had been brevetted to the rank of Major General in both the regular and volunteer services.
After the war, Ingalls returned to Washington, D.C. in 1866 where he was given the rank of Colonel in the Regular Army. Over the next two decades he served in quartermaster posts in San Francisco, New York and Chicago. In 1882, Ingalls was named the 16th Quartermaster General of the United States Army with the full rank of brigadier general. In 1883, he retired from the military and returned to Oregon. He remained in Oregon until 1891when he moved to New York City, New York.
Ingalls passed away on January 15th, 1893.
Ingalls was a member of Willamette Lodge No. 2 in Portland, Oregon. He joined the lodge in 1852, after he left Oregon it is unclear about any further Masonic affiliations.