Thomas Chittenden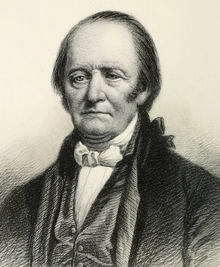 Born January 6, 1730 - Died August 25, 1797
Thomas Chittenden was an American politician.
Chittenden was born on January 6th, 1730 in the town of East Guilford, which was part of the Connecticut Colony. While he was living in Connecticut, he was the justice of the peace in Salisbury and a member of the colonial assembly from 1765 to 1769. He also served in Connecticut's 14th Regiment from 1767 to 1763 where he rose to the rank of Colonel.
In 1774, Chittenden moved to the area known at the time as New Hampshire Grants, which is now the state of Vermont. He was the first settler in Williston, Vermont, which is now part of Chittenden County. In 1777 he attended a convention in Windsor, Vermont where the first Vermont State Constitution was made. The new constitution established Vermont as an independent Republic.
During the American Revolution, Chittenden was a member of a committee who were empowered to negotiate with Continental Congress to have Vermont admitted to the Union. At the time there were claims by both New York and New Hampshire that the area of Vermont was owned by both states. To avoid having either New York or New Hampshire pull out of the Union, the decision on admitting Vermont was postponed until after the war.
Chittenden served as Governor of the Republic of Vermont from 1778 to 1789. He became Governor again in 1790 until 1791. During this same time he was of the participants in a series of negotiations with British authorities, which took place in Quebec, to have Vermont join Great Britain as a province.
In 1791, Vermont officially became a part of the United States as the 14th state. Chittenden remained the Governor of Vermont form the time Vermont was admitted to the Union until 1797.
Chittenden passed away on August 25th, 1797. The epitaph on his headstone reads "Out of storm and manifold perils rose an enduring state, the home of freedom and unity." There are a number of things in Vermont named after Chittenden, including the town of Chittenden in Rutland County, Vermont and Chittenden County, the most populous county in the State of Vermont.
Chittenden was a member of Dorchester Lodge No. 1 in Vergennes, Vermont. Dorchester Lodge was one of the founding lodges of the Grand Lodge of Vermont.