Marcellus Monroe Crocker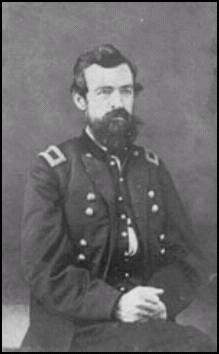 Born February 6, 1830 - Died August 26, 1865
Marcellus Monroe Crocker was an American soldier.
Crocker was born on February 6th, 1830 in Franklin, Indiana. In 1847 he entered the United States Military Academy at West Point. He left the academy at the end of his second year. After leaving the academy he moved to Des Moines, Iowa where he studied law and later opened up a law practice.
In 1861, with the outbreak of the American Civil War, Crocker entered the United States Army as a captain. He first served with the 2nd Iowa Infantry, by the end of the year he had transferred to the 13th Iowa Infantry and was promoted to colonel. He fought with distinction in the Battle of Shiloh in April 1862. At the Shiloh he assumed command of a brigade during the first day. He later commanded the "Iowa Brigade" at the Second Battle of Corinth in October, 1862. In November of 1862 he was promoted to brigadier general.
In 1863, Crocker joined the Vicksburg Campaign, where he conducted a raid in Mississippi. His brigade was nicknamed "Crocker's Greyhounds." He established a high level of discipline within his brigade which enabled Crocker to march his men into areas they were needed swiftly and efficiently.
It was also in 1863, that Crocker's brigade re-enlisted making them a veteran volunteers brigade. Around this same time, Crocker took command of the division when General Quinby, head of the division, left on sick leave. Crocker led the division at the battle of Jackson. Quinby returned just a few days after the battle. Despite Quinby's return, it was deemed necessary for military readiness that Crocker remain in command of the division. The division was deploying to the battle of Champion Hill.
Throughout Crocker's time in the army he suffered from consumption, more commonly known as Tuberculosis (TB). In 1864, while on his way to join Sherman's Atlanta Campaign, his illness became worse and he submitted his resignation letter. The letter was refused and Crocker was transfered to New Mexico, hoping this would improve his health. By the end of 1864, Crocker was feeling better and was ordered to report to General George H. Thomas in Nashville, Tennessee.
As soon as Crocker left New Mexico his health began to deteriorate again. He passed away on August 26th, 1865.
Crocker was a member of Pioneer Lodge No. 22 in Des Moines, Iowa.