David Hall, Jr.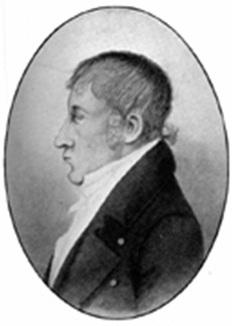 Born January 4, 1752 - Died September 18, 1817
David Hall, Jr. was an American politician.
Hall was born on January 4th, 1752 in Lewes, Delaware. In 1773 after studying the law he was admitted to the bar. When the American Revolution started, he was already a member of the Sussex County militia, he joined the 1st Delaware Regiment under Colonel John Haslet. In January 1777 Haslet was killed in battle and Hall assumed command of the regiment.
Under Hall, who was promoted to colonel, the 1st Delaware fought in the Battle of Brandywine and the Battle of Germantown. In the battle of Germantown in October 1777 Hall was wounded. The wound was severe enough he spent several months recovering. During this time he recruited new soldiers and served during Courts Martial.
It wasn't until June 1779 when Hall returned to active service. He spent the summer inactive with his regiment and became increasingly frustrated with the support he and the regiment was receiving from the Delaware General Assembly. In October 1779, Hall returned home and made his displeasure known to the General Assembly. In 1780, his regiment was deployed to Charleston, South Carolina Hall did not go. He continued to make demands for payments to the General Assembly. What money was paid forward was never enough and in 1782, Hall resigned his commission.
Prior to resigning his commission and until 1798, Hall resumed his legal practice in Lewes. In 1798, he entered politics as a Jeffersonian Democrat-Republican. Politics at the time in Delaware were split along religious lines and Hall, a Presbyterian, was a minority in his home county and was defeated in the race by Federalist. In 1801 he ran again, this time he ran against an Episcopalian and professed "Deist." His opponent was also critical of Methodists. Hall emphasized his Presbyterian faith in the campaign. Despite losing two counties heavily, Hall won the election by just 18 votes. The Delaware Legislature, controlled by Federalists, considered using the newly passed Alien and Sedition Acts, which made it harder for immigrants to gain United States citizenship, to try to nullify some of the votes in the election. The Legislature gave up it's plan and Hall became the 16th Governor of Delaware.
During his time as Governor (1802 to 1805), Hall oversaw the state during the greatest abolitionist sentiment the state had ever seen. The Legislature failed by one vote to pass legislation gradually enacting an emancipation bill.
Hall passed away on September 18th, 1817 in Lewes, Delaware.
Hall was raised in Lodge No. 18 in Dover, Delaware. He was later a member and Worshipful Master of Hirams Delaware Regimental Lodge No. 30 and charter Worshipful Master of Lodge No. 63 in Lewes, Delaware.