Frederick Preston Cone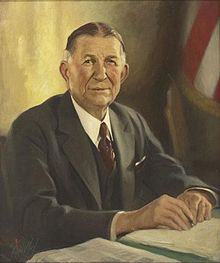 Born September 28, 1871 - Died July 28, 1948
Frederick Preston Cone was an American politician.
Cone was born on September 28th, 1871 in Benton, Florida. He was educated at the Florida Agricultural College, which was a precursor of the University of Florida, and Jasper Normal College. He studied law, although never received a law degree. Despite this fact in 1892 he passed the bar in Florida and began practicing law in Lake City, Florida.
Cone started his political career serving as the Mayor of Lake City. In 1907 he was elected to the Florida State Senate. He served a total of three terms until 1913. During this time in 1911, Cone and several other local businessmen started Columbia County Bank, the bank opened in 1912, which grew with the community. The bank celebrated it's centennial in 2012. Also in 1911, Cone served as the President of the Florida Senate.
In 1936, Cone was elected as the 27th Governor of Florida. There was a question when he took office, considering he was 65 and in poor health, if he was capable to serve as Governor. He served at the height of the Great Depression and Florida was no different from other states in the country who struggling to keep state services functioning. During his tenure, Florida A&M was able to secure higher salaries for teachers and administrators, despite Cone, a Democrat, being a strict Segregationist. Cone opposed the pay increase on racial grounds.
At the time, according to the Florida Constitution, the Governor had very little power. This was a throw back to the Reconstruction Era after the American Civil War. One of the powers he did have was the power of the veto, which Cone exercised more than any Governor before him. Cone was also a fiscal conservative and was considered a hands off Governor.
Despite his lack of power and his hands off policy, Cone did have some accomplishments while in office. He created the Florida Highway Patrol, using fees assessed from licenses. Cone was opposed to any new taxes. He also had the state sponsor a 110,000-square-foot exhibition at the 1939 New York World's Fair, the largest of any state. The presentation recreated a tropical paradise and included 45 exhibits depicting natural resources, points of interest and the latest discoveries in science and industry.
In 1940, Cone decided not to run for another term as Governor. Instead he made an unsuccessful bid for the Untied States Senate.
Cone passed away on July 28th, 1948.
Cone was a member of Lake City Lodge No. 27 in Lake City, Florida. There are also indications he was a member of the Ancient Arabic Order of the Nobles of the Mystic Shrine.