James Elisha Folsom Sr.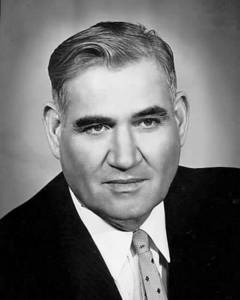 Born October 9, 1908 - Died November 21, 1987
James Elisha Folsom Sr. was an American politician.
Folsom was born on October 9th, 1908 in Coffee County, Alabama. He served in the United States Marine Corps in the early 1930's. After his military service he attended the University of Alabama, Samford University in Birmingham, and George Washington University in Washington, D.C. He never received a degree from any of those institutions.
In 1944, Folsom was elected as a delegate to the 1944 Democratic National Convention. He voted to keep Vice President Henry A. Wallace on the ticket. Wallace was replaced by Harry S. Truman. Winning the election to be a delegate was the only election he won prior to being Governor of Alabama.
In 1946, Folsom was elected as the 42nd Governor of Alabama. During his campaign, Folsom traveled with a hillbilly band and a mop bucket which he said he used to "clean out" the capitol. Folsom was the first southern Governor to advocate a moderate position on integration and improvement of civil rights for African Americans. In 1949 he said during his Christmas message "As long as the Negroes are held down by deprivation and lack of opportunity, the other poor people will be held down alongside them."
In 1948, Folsom, who was a widower, made national headlines when a woman, Christine Johnston, filed a paternity suit against him, alleging he was the father of her 22 month old son. Nine days after the suit was filed, Folsom was in New York City in front of the Barbizon Modeling School where he was kissed by 100 models who had voted him "The Nation's Number One Leap Year Bachelor." The spectacle drew a crowd of 2,500 people and stopped traffic around the event. Eventually the suit was dropped after Folsom paid Johnston an undisclosed amount of money. It was also in 1948, Folsom married his second wife, Jamelle Moore, a 20 year old secretary in the Alabama Highway Department who he met in his 1946 campaign. At the time in Alabama a Governor could not run for consecutive terms. His first term ended in 1951.
In 1954, Folsom won a second term as Governor. This was in spite of the scandals rocking his first term. During his second term, in 1958, Folsom commuted the sentence for James E. Wilson, an African American farm worker who was accused of a violent robbery and was convicted by an all white jury. The case became famous because of the incredibly small amount of money claimed to have been stolen, $1.95. For the crime he was sentenced to be executed. Folsom's actions were criticized by segregationists. He was also criticized for not commuting the sentence of Jeremiah Reeves, who was accused of raping a white woman in 1952. Reeves was sentenced to death and his execution was carried out in 1958.
Folsom had two more unsuccessful attempts at the Governors Office both in the 1960's.
Folsom's health it is claimed deteriorated in the 1970's. People magazine claimed he became deaf and only 5% of his vision worked. Folsom passed away on November 21st, 1987.
Folsom was a member of Marshall Lodge No. 209 in Guntersville, Alabama.