Robert Griffith Houston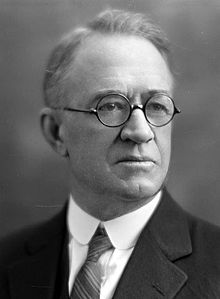 Born October 13, 1867 - Died January 29, 1946
Robert Griffith Houston was an American politician.
Houston was born on October 13th, 1867 in Milton, Delaware. He attended local public schools in Lewes, Delaware. In 1888 he married Margret White, an active Suffragette and Prohibitionist. It was also in 1888 that Houston was admitted to the bar and opened a practice in Georgetown.
From 1890 to 1895, Houston served in the Delaware National guard. In 1893, he started The Sussex Republican a Sussex County newspaper. He remained the owner and editor until 1934. The paper lasted another twelve years as the The Sussex Countian.
In 1900, President William McKinley appointed Houston collector of customs for the district of Delaware. He held that post until 1904. From 1920 to 1924 he served his first term as Assistant Attorney General of Delaware.
In 1924, Houston successfully ran for a seat in the United States House of Representatives. He was swept into office behind popular Republican President Calvin Coolidge's reelection campaign. Republicans gained 24 seats during the 1924 election. Houston served four consecutive terms in the House of Representatives. He chose not to seek reelection in 1932, during the height of the Great Depression.
After leaving Congress, Houston served again as Assistant Attorney General of Delaware, this time from 1933 to 1935. In 1936, Houston ran as an Independent Republican for the United States Senate, coming in third in the race.
After losing his bid for the United States Senate, Houston retired from politics and resumed his career as a publisher.
Houston passed away on January 29th, 1946.
Houston was a member of Franklin Lodge No. 14 in Georgetown, Delaware.