Laurie Perry Cookingham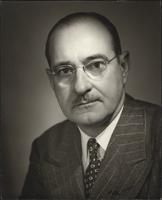 Born October 23, 1896 - Died July 22, 1992
Laurie Perry Cookingham was an American civil servant.
Cookingham was born in Chicago, Illinois on October 23rd, 1896 and grew up in Danville, Illinois. During World War I he served in the United States Army. He also received a Civil Engineering Degree from Detroit Institute of Technology. It is unclear if he completed his course of study before or after his service during World War I. Regardless of the order, he then worked in the public works department of Flint, Michigan.
In 1926, Cookingham became the first City Manager of Clawson, Michigan. A City Manager is generally the person in charge of the bureaucracy involved in the day to day operation of a city. Later he was the City Manager of Plymouth, Michigan. Prior to 1933 he also served as the director of the work division of the Federal Emergency Relief Association (FERA) in Wayne County, Michigan. FERA was part of the efforts during the Great Depression to provide funds for relief work for people in need. From 1936 to 1940 he served as the first City Manager of Saginaw, Michigan. During this same time he served as president of the International City/County Management Association (ICMA). ICMA is an association for professionals working in city government.
In 1940, Cookingham became the City Manager of Kansas City, Missouri. The road to Cookingham becoming the City Manager in Kansas City began in in 1926, when the city changed to the city manager form of government. At the time city boss Tom Pendergast installed a puppet city manager. For the next 14 years Pendergast, along with his puppet City Manager oversaw a growth of infrastructure in the city. Unfortunately it was largely done with no-bid contracts and patronage jobs which were then covered up by the City Managers "country bookkeeping." The era ended just before Cookingham was hired as City Manager, when Pendergast was found guilty of tax evasion, his City Manager had already passed away.
Cookingham inherited a city $20 million in debt. In 6 months he had cut the payroll by 2,000, in 1 year and 6 months he had eliminated the Kansas City's debt. Cookingham oversaw a period of expansion for Kansas City. The city went from 60 square miles to 130, mostly north of the Missouri river. In 1951, the Great Flood destroyed much of Kansas City's Industrial Base. Cookingham oversaw the construction of a new jet port north of the Missouri River. This became Kansas City International Airport. His planning is also credited for creating Kansas City's freeway system. In 1959, Cookingham was forced to resign by the City Council. Within a year, the city had 9 city managers.
After leaving Kansas City, Cookingham served as the City Manager of Fort Worth, Texas for four years before retiring. After retiring he returned to Kansas City where he administered the People to People Student Ambassador Program, a program which provided international travel opportunities for middle school and high school students.
Cookingham passed away on July 22nd, 1992.
Cookingham was raised in Anchor Lodge No. 980 in Danville, Illinois. His lodge affiliations after is unclear. There is a picture of Cookingham receiving his 70 year Masonic service award in Kansas. There is no information on what lodge gave him the award or the identiy of the individuals in the photo.