James Iredell Jr.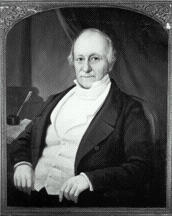 Born November 2, 1788 - Died April 13, 1853
James Iredell Jr. was an American politician.
Iredell was born on November 2nd, 1788 in Chowan County, North Carolina. His uncle, on his mother's side, was Governor Samuel Johnston who served in 1806. He graduated from the College of New Jersey, now Princeton University.
Shortly after graduating from college, the War of 1812 began. Iredell commanded a company of volunteers during the war. After, he practiced law in Chowan County. He served in the state House of Commons and then as a Superior Court Judge. He also kept a journal during this time. It has been used by researchers to learn about events in the period. It was rare for a member of the gentry to keep a journal.
In 1827, Iredell was elected 23rd Governor of North Carolina. The North Carolina Constitution gave the governor little or no power. He did push for education and infrastructure. One infrastructure item, a hot topic of the day, was his suggestion for the construction of a horse drawn railroad from Campbellton to Fayetteville.
Iredell left the Governors office to serve the remainder of a United States Senate term when the sitting Senator resigned. Iredell served from 1828 to 1831. By this time Iredell was a Jacksonian Democrat. He did not seek reelection to a full term.
After leaving the United States Senate, Iredell moved to Raleigh, North Carolina. There he practiced law and became the court reporter for the North Carolina Supreme Court. He served in the position from 1840 to 1852.
Iredell passed away on April 13th, 1853. He was buried in the Johnston Burial Ground.
Iredell was a member of Unanimity Lodge No. 54 in Edenton, North Carolina.