William Eastin English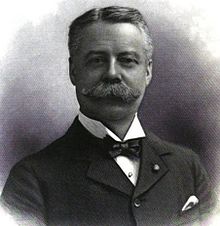 Born November 3, 1850 - Died April 29, 1926
William Eastin English was an American politician.
English was born on November 3rd, 1850 in Lexington, Indiana. His family moved to Indianapolis when he was fifteen. English's father became active in politics and business, specifically real estate. English's father owned substantial land in the Indianapolis area. English attended both public and private schools in the area and eventually graduated from Northwestern Christian University, which is now Butler University, in 1873. The same year he was admitted to the bar in Indiana. He opened a law practice until 1882 when he ran for the Untied States House of Representatives.
In 1880, English was elected to the Indiana House of Representatives. Also his father turned over English's Opera House, which had just been built in Indianapolis.
English contested the 1882 race for the United States House of Representatives. His opponent was initially declared the winner, after contesting the result, English was elected and was seated in Congress as a Democrat. He served only one term in the U.S. House of Representatives declining to be renominated.
English served in the Spanish-American War as a captain and aide-de-camp on the staff of Genral Joseph Wheeler.
Until 1900, English was a Democrat and served at two Democratic National Conventions. In 1900 he left the Democratic party and became a Republican. After becoming a Republican he served at the 1912 Republican National Convention. He was then elected to serve in the Indiana State Senate in 1916. He was reelected twice.
On April 29th, 1926, during English's third term in the Indiana State Senate, English passed away.
English was a member of Center Lodge No. 23 in Indianapolis, Indiana. He was also a member of Indianapolis Chapter No. 5, Royal Arch Masons, Indianapolis Council No. 3, Royal & Select Masters and Raper Commandery No. 1, Knights Templar. He was also a member of the Ancient Accepted Scottish Rite, Northern Masonic Jurisdiction in Indianapolis.