Nathaniel Ryal Bailey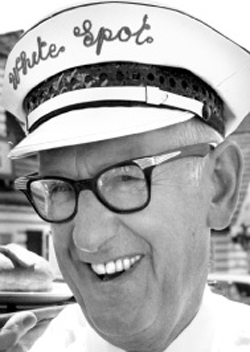 Born January 31, 1902 - Died March 27, 1978
Nathaniel Ryal Bailey was an American-born Canadian businessman.
Bailey was born in St. Paul, Minnesota on January 31st, 1902. At the age of 11 he moved with his family to Vancouver, British Columbia, Canada.
Bailey began his business by selling peanuts at the Vancouver Forum, a hockey and concert venue in Vancouver. After some time he started selling hamburgers and drinks. In 1934, the roof of the Vancouver Forum collapsed and Bailey needed to move his business.
Bailey built a log cabin style building with white logs and green ends. The restaurant was called White Spot, the first drive-in in Canada. He dressed the car-hops, waiters and waitresses, in green uniforms with white stripes and Naugahyde caps. He also created specialized trays which had never been used before. It allowed the tray to sit on the cars windows sills.
The food at White Spot was equally unique for the time. Bailey created a special sauce which many thought was Thousand Island Dressing with mayonnaise added. There are stories of Bailey taking used container of various types including mayonnaise, ketchup and relish moving the mixed contents from one container to another. It is also said that he used pickle juice from emptied jars and residue from slicing tomatoes.
Regardless of what was in Bailey's "Special Sauce" it was very popular and often people requested extra sauce. On the order tickets the car-hops put three O's to indicate extra sauce and soon the sauce became known as "Triple-O" sauce which was copyrighted. He would also open new restaurants called Triple-O's Restaurants.
Later Bailey opened two other restaurants called "Chicken Pickens" and "Chicken in the Straw." Both restaurants were opened prior to Kentucky Fried Chicken.
Bailey opened his restaurants across Vancouver and Victoria before selling the chain to General Foods.
Bailey was also very interested in Baseball. He supported a local little baseball league. He was also part owner of the Vancouver Mounties a minor league baseball team.
Bailey passed away on March 27th, 1978.
Bailey was a member of Mount Lebanon Lodge No. 72 in Vancouver. Later he became a founding member of Mosaic Lodge No. 162 also in Vancouver.