James Graham Fair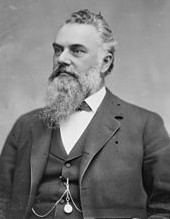 Born December 3, 1831 - Died December 28, 1894
James Graham Fair was an Irish-born American politician and businessman.
Fair was born on December 3rd, 1831 in Clogher, County Tyrone, Ireland. At the age of 12 he moved to the United States with his father and they settled on a farm in Illinois, where Fair was raised. He received an extensive education in business before moving to California in 1850.
In California, Fair worked the Feather River where he searched for gold embedded in quartz rather than the typical panning for gold most other prospectors were using. He quickly turned his attention to Nevada where he operated a stamp mill, a mill crushed material to extract minerals from it rather than a rolling over it. His mill was located on the Carson River. He also acted as mine superintendent for several mining companies working the Comstock Lode. A lode of Silver Ore located in Nevada.
Fair went into business with three fellow Irish immigrants, Mackay, Flood and O'Brien. The company was formally named Flood and O'Brien, it was most commonly known as the "Bonanza Firm." The four men gained large fortunes from shares in silver mines on the Comstock Lode. Over twenty years combined the firm produced over $100 million. There biggest success was when miners working for the Consolidated Virginia Mine, found a large body of silver ore which was nicknamed "the big bonanza."
Fair invested his money into railroads and real estate, which brought his private holdings up to $50 million. Although Fair was respected as a shrewd businessman, he was not well liked. He gained the nickname "Slippery Jim."
In 1876, Fair started the South Pacific Coast Railroad which went from modern-day Newark, California, across the Santa Cruz Mountains into Felton, California. Fair employed 600 Chinese immigrant for the job which included two tunnels, one 6,200 feet long and the other 5,000 feet long. In the course of the tunneling thirty-one workers lost their lives largely due to natural gas explosions during the tunneling process. Only a decade later, Fair sold his ownership in the railroad to Southern Pacific Railroad who ran the line until 1940, when the rail line was shifted to avoid the Santa Cruz Mountains.
In 1881, Fair was elected by the Nevada Legislature to be a United States Senator. It was a position Fair had little interest in. He spent most of his time in the Senate advocating for the silver industry. He was not reelected for a second term.
Fair was married to Theresa Rooney and they had several children. Theresa divorced him after twenty two years of marriage in 1883 for "habitual adultery." After the divorce he became estranged from his children. In 1890 when one of his daughters was married in San Francisco, Fair sat in his hotel room having not been invited to the wedding. Despite not being invited to the wedding, Fair gave his daughter and new husband, a $1 million for a wedding gift. Fair left a $40 million trust fund for his three surviving children when he passed away.
Fair passed away on December 28th, 1894.
Fair was a member of Bear Mountain Lodge No. 76 in Angels Camp, California.