William Beaumont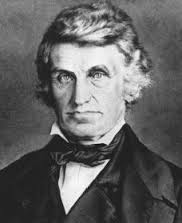 Born November 21, 1785 - Died April 25, 1853
William Beaumont was an American surgeon.
Beaumont was born in Lebanon, Connecticut on November 11th, 1785. In 1811, he began an apprenticeship with a doctor in St. Albans, Vermont.
During the War of 1812, Beaumont enlisted as a surgeon's mate in the army until 1815. After the Army Beaumont moved to Plattsburgh, New York and opened a private practice. By 1819, Beaumont had rejoined the Army as a surgeon. In 1821, Beaumont returned to Plattsburgh to marry Deborah Green Platt in Plattsburgh. Deborah was divorced from the nephew of Zephaniah Platt who founded Plattsburgh during the Revolutionary War.
In 1822, a patient named Alexis St. Martin was brought to Beaumont after being shot in the stomach with a shotgun at close range. Beaumont's prognosis of St. Martin was that the wound was fatal. Beaumont treated the wound though and made St. Martin as comfortable as possible. St. Martin pulled through and was left with fistula, a hole in the stomach that never heals.
Since St. Martin could no longer work for the American Fur Company, Beaumont hired him on as a handy man. In 1825 Beaumont would be stationed in Fort Niagara. Beaumont realized that with St. Martin he had an opportunity for study of the human digestive system. Beaumont began performing experiments with St. Martin. Generally the experiments involved a piece of food tied to a string that Beaumont would put in St. Martin's stomach through the fistula. Every few hours Beaumont would remove the food and check to see how much had been digested. He also removed samples of gastric acid from St. Martin.
Shortly after arriving at Fort Niagara, St. Martin left Beaumont to return to Canada. Beaumont began experimenting with the gastric acid that he had taken from St. Martin and using them to digest food in dishes. Prior to Beaumont's experiment it was believed that digestion was not a mostly mechanical operation of the stomach. It was actually largely a chemical process.
In 1831, Beaumont and St. Martin would come back to together for Beaumont to conduct some further tests.
In 1833, Beaumont would publish an account of the experiments as Experiments and Observations on the Gastric Juice, and the Physiology of Digestion. This was while he was stationed in St. Louis, Missouri. The two men would part company after the paper was published. Until the end of his days, Beaumont would ask St. Martin to move to St. Louis. St. Martin would always refuse.
Beaumont passed away on April 25th, 1853 after slipping on icy steps. Beaumont's work earned him the nickname of the "Father of Gastric Physiology."
Beaumont was raised in Harmony Lodge in Champlain, New York on April 11th, 1820.