Adeyemo Alakija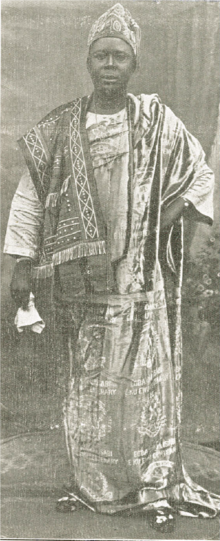 Born May 25, 1884 - Died April 9, 1952
Adeyemo Alakija was a Nigerian lawyer, politician and businessman.
Alakija was born on May 25th, 1884 as Placido Adeyemo Assumpçao in Lagos, Nigeria. He was descended from freed Brazilian slaves who had returned to Nigeria, which was common at the time. He kept the name Assumpçao until 1913 when he and his family were swept up in the tidal wave of nationalism in Nigeria at the time. This led the family to adopt the traditional African name of Alakija instead of the Portuguese name of Assumpçao. He attended St. Gregory's Catholic school before transferring to CMS Grammar School, Lagos.
From 1900 to 1910, Alakija worked for the British Colonial Government. In 1910 he traveled to England to study law. In 1913 he was admitted to the bar. After he returned to Nigeria and established his legal practice. There he became a close colleague of Herbert Macaulay, a Nigerian Nationalist. The two had a falling out though when their political views began to diverge. Specifically it was over the Oba of Lagos, the traditional and ceremonial leader of Lagos. Alakija felt Eleko, the Oba, was a weak leader and was unsuited to deal with the complexities of running Lagos. He also felt Eleko was being led astray by his counselors, including Macaulay.
In 1923 and then in 1926, Alakija stood for election to Parliament. He was unsuccessful both times.
It was also in 1926 when Alakija helped to found the Daily Times which for many decades was Nigeria's leading news paper.
Alakija embraced some traditional elements of Yoruba socio-political and religious history when he co-founded the reformed Ogboni society and became the Olori Oluwo, or Lord of the Lords, of the brotherhood. As a member of the Ogboni confraternity, he introduced the use of masonic symbols inside the organization, including the all seeing eye.
Alakija passed away on May 10th, 1952.
Alakija was the first Grand Master of the District Grand Lodge of Nigeria, which falls under the Grand Lodge of Scotland. Alakija also a member of Star of Nigeria Chapter No. 255, Royal Arch Masons. He was appointed superintendent over Royal Arch in the district over both English and Scottish constitutions.