Edwin Ross Adair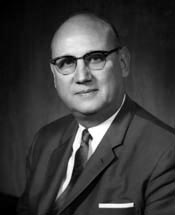 Born December 14, 1907 - Died May 5, 1983
Edwin Ross Adair was an American politician.
Adair was born on December 14th, 1907 in Albion, Illinois. After attending local schools for his primary education, Adair went on to graduate from Hillsdale College in Michigan with a Bachelor of Arts in 1928. In 1933 he graduated from George Washington University Law School with a Bachelor of Laws.
It was also in 1933, that Adair was admitted to the bar in Indiana and began practicing law in Fort Wayne. He served as probate commissioner of Allen County, Indiana from 1940 to 1950. During World War II he served on active duty as second lieutenant in the Quartermaster Corps Reserve from September 1941 until 1945.
Adair was elected to the United States House of Representatives. He served from 1951 until January 3rd, 1971, having lost his bid for reelection in 1970. From 1971 until 1974 he served as United States Ambassador to Ethiopia.
In 1974, Adair returned to Fort Wayne, Indiana where he resumed his legal practice. He passed away on May 5th, 1983.
Adair was a member of Albion Lodge No. 97 in Albion, Indiana.