Meriwether Lewis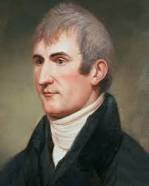 Born August 18, 1774 - Died October 11, 1809
Lewis, part of the exploring duo of Lewis and Clark, was an explorer, solider and public administrator.
In 1804 the Lewis and Clark expedition left for the Lousiana territories with a specific mission from then President Thomas Jefferson. The expedition was to establish trade and sovereignty over the natives along the Missouri River. They were also tasked with claiming Pacific Northwest and Orgegon Territory before any Europeans could.
On his return from the expedition Lewis was granted the Govenorship of Upper Lousiana by President Thomas Jefferson.
Lewis died of a gunshot wound to the head. To this day it is debated whether he committed suicide or was murdered.
Lewis was initiated, passed and raised in the "Door To Virtue Lodge No. 44" in Albemarle, Virginia, between 1796 and 1797. On August 2, 1808, Lewis and several of his acquaintances submitted a petition to the Grand Lodge of Pennsylvania requesting dispensation to establish a lodge in St. Louis. Lewis was nominated and recommended to serve as the first Master of the proposed Lodge, which was warranted as Lodge No. 111 on September 16, 1808