Valentin Blatz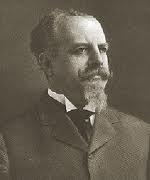 Born October 1, 1826 - Died May 26, 1894
Valentin Blatz is a German-American businessman, banker and brewer.
Blatz was born in Bavaria where at a young age he began working in his fathers Brewery.
In 1848 Blatz had immigrated to the United States. The following year he arrived in Milwaukee, Wisconsin. Blatz quickly setup a brewery next to Johann Braun's city Brewery. In 1952 when Braun passed away Blatz merged the brewery's and married Braun's widow.
In 1874 Blatz produced Milwaukee's first individually bottled beer. By the 1900's Blatz was Milwaukee's third largest brewer.
Blatz was a member of Aurora Lodge No.10 in Milwaukee, Wisconsin.