Henry Goode Blasdel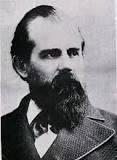 Born January 29, 1825 - Died July 26, 1900
Henry Goode Blasdel was an American politician.
Blasdel was born on January 29th, 1825 near Lawrenceburg, Indiana. He received a limited education from the common schools in the area.
Before 1861, Blasdel worked in a variety of jobs including farmer, storekeeper and riverboat captain. In 1861 he moved to prior to it becoming a state. He was appointed as the Recorder for Storey County in the western part of the state, near the border with California. In Nevada he was active in the mining and milling industries.
Blasdel was an active part of the Republican party of the time. He was part of the National Union League Committee which notified Abraham Lincoln he had been nominated for President a second time.
In 1864, after Nevada received it's statehood, Blasdel was nominated and elected as the first Governor of Nevada. He served two terms, being re-elected in 1866. During his time as Governor the state government was formed, lands were ceded to the state and the first state capitol building was planned out. After being governor, he retired from political life.
In 1891, Blasdel moved to Oakland California. There he lived out the remainder of his days working still in the mining and milling industries. He passed away on July 26th, 1900.
Blasdel was a member of Santa Cruz Lodge No. 38 in Santa Cruz, California. He was also a member of Carson Lodge No. 1, Carson City, Nevada where he served as Worshipful Master.