Victor Emanuel Anderson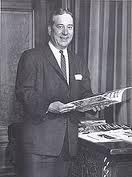 Born March 30, 1902 - Died August 15, 1962
Victor Emanuel Anderson was an American politician.
Anderson was born in Havelock, Nebraska which became incorporated in Lincoln, Nebraska. He was born on March 30th, 1902. In 1920 he graduated from Havelock High School. He would go to attend the University of Nebraska. He would leave school after 2 and a half years to join his fathers plumbing and hardware business.
In 1936, Anderson was appointed to the position of trustee of Lancaster County. He would later be elected three more times to the position.
In 1948, Anderson was elected to the Nebraska Legislature. He would only serve one year of the term beginning in 1949. In 1950 he would resign his seat when the Lincoln city council elected him unanimously to fill the vacant office of the Mayor. He would run for reelection as Mayor in 1951 and would win by a wide margin. During his time as Mayor, Lincoln Air Force Base would be reactivated and the city streets would be resurfaced for the first time in 15 years.
In 1949, Anderson would buy the controlling interest in the Havelock bank. He would be named president of the bank and would hold that position until his passing.
Anderson would run for Governor in 1952 unsuccessfully. In 1954 he would run and be elected as Governor, he would serve two terms. During his time as Governor Anderson reduced taxes and expenditures and improved the mental health system of the state. In 1958 he would run for his third term as Governor, losing in what was then the closest race in Nebraska history.
In 1959, Dwight D. Eisenhower chose Anderson as a delegate to the NATO sponsored Atlantic Congress in London, England.
On August 15th, 1962, Anderson would pass away from a heart attack.
Anderson was a member of George Washington Lodge No. 250 in Lincoln, Nebraska. He was raised in 1928.