Gregorio Aglipay Cruz y Labayan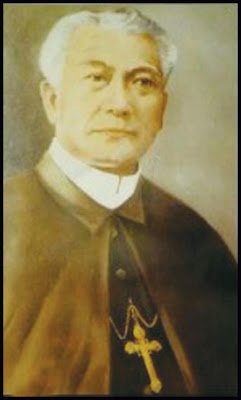 Born May 5, 1860 - Died September 1, 1940
Gregorio Aglipay Cruz y Labayan was a Filipino priest and revolutionary.
Aglipay was born on May 5th, 1860 in Batac City, Ilcos Norte, Philippines. He was an orphan and grew up in the agricultural system of the colonial Spanish Government. He worked in the tobacco fields. At the age of fourteen he was arrested for not fulfilling his quota of tobacco. It is believed Aglipay suffered in other ways under the harsh agricultural system and it had an impact on his views in the future.
Eventually Aglipay moved to Manila where he spent two years studying law. In 1883 he entered the seminary. He was ordained a Roman Catholic priest in 1890. As a priest he worked in several different parishes. While in Victoria, Tarlac he aided the revolutionaries in the region. He hired 30 carpenters as a cover for the men who were all members of the revolutionary group Katipunan.
In 1898, Aglipay was sent to negotiate with the rebels by the Archbishop. In exchange for ending the revolution, the rebels were to be offered autonomy in the future of the Philippines. Before Aglipay could reach his destination the Philippine-American War broke out. Aglipay immediately joined the revolution. Emilio Aguinaldo immediately made Aglipay the Vicar General of the revolutionaries. Aglipay took this to mean all priests in the country answered to him and he ordered all of them into service as chaplains. This was a mistake on Aglipay's part and in 1899 he was excommunicated for "usurpation of ecclesiastical jurisdiction."
After the war in 1902, there was a movement to create a national church was independent of Rome. Aglipay was immediately suggested as it's first bishop. At the time he was a devout Catholic and he was reluctant to take the position. Eventually he agreed and became the Supreme Bishop of the Philippine Independent Church.
As Aglipay traveled outside the Philippines in his official position as Supreme Bishop he began to develop a more Unitarian belief instead of the Trinitarian-ism of the Catholic church and his own church. Despite his strong beliefs, the Philippine Independent Church refused to accept Aglipay's Unitarian philosophy.
Aglipay ran unsuccessfully for the Presidency in 1935.
Aglipay passed away on September 1st, 1940.
Aglipay was a member of Magdalo Lodge 31 in Cavite. It is now called Emilio Aguinaldo Memorial Lodge No. 31.