William David Blakeslee Ainey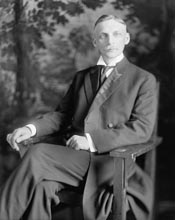 Born April 8, 1864 - Died September 4, 1932
William David Blakeslee Ainey was an American politician.
Ainey was born on April 8th, 1864 in New Milford, Pennsylvania. He attended the State Normal School, now the Mansfield University of Pennsylvania, in Mansfield, Pennsylvania. He graduated from Lehigh University in 1887. He also studied law.
In 1887, Ainey was admitted to the bar and began practicing law. He opened a practice in Montrose, Pennsylvania. He served as district attorney for Susquehanna County from 1890 to 1896.
In 1889, Ainey organized Company G of the Pennsylvania National Guard. He served as captain of the unit from 1889 to 1894.
Ainey was elected as a Republican to the United States House of Representatives to fill the vacated term of George W. Kipp who passed away in July of 1911. Ainey was elected to a second term in 1913 before leaving Congress in 1915.
Ainey was a delegate to International Parliamentary Union for International Peace held in Geneva, Switzerland in 1912. He also served at the same meeting which was held the following year at The Hague. He also served as the President and Secretary of the Japanese-American group of inter-parliamentarians for meetings held in Tokyo, Japan and Stockholm Sweden in 1914.
After leaving Congress in 1915, Ainey resumed his private legal practice. He also turned his attention to local politics. He was appointed in 1915 to the Public Service Commission of Pennsylvania. Later the same year he became the commission chairman. In 1917 he was appointed to serve on the Commission for a 10 year term as a member and commissioner. He was re-appointed to second 10 year term in 1927.
In 1922, Ainey was appointed chairman of the Pennsylvania Fuel Commission . In 1924 he served as the president of the National Association of Railroad and Utilities Commissioners.
Ainey passed away on September 4th, 1932 in Harrisburg, Pennsylvania.
Ainey is believed to have been a Freemason. He was also believed to be a member of Knights Templar and Shrine.