J. Hugo Aronson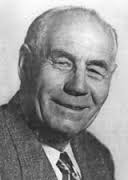 Born September 1, 1891 - Died February 25, 1978
J. Hugo Aronson was an American politician.
Aronson was born in Sweden on September 1st, 1891. He immigrated to the United States at the age of 20.
After traveling to several states, Aronson finally settled in Montana in 1914. He eventually settled in the Sunburst, Montana area and became established in the oil rigging business. After oil was discovered in the Kevin Sunbust Oil field in 1922, Aronson's oil rigging business started to boom, he added a trucking business and advertised as the "Galloping Swede".
Aronson served in the Montana House of Representatives, the Montana Senate and finally he was elected the 14th Governor of Montana, he served two terms. Some items of note during his term as Governor were, he established a gas user tax that was exclusive revenue for the highway department, reorganized the forestry office, prison reform programs were instituted and he authorized the creation of a Legislative Council to assist in the creation of necessary laws.
Aronson passed away on February 25th, 1978.
J. Hugo Aronson was a member of Shelby Lodge No. 143 in Shelby, Montana.