Ethan Nathan Allen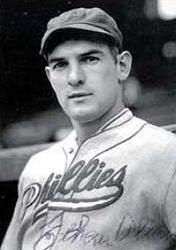 Born January 1, 1904 - Died September 15, 1993
Ethan Nathan Allen was an American baseball player.
Allen was born on January 1st, 1904 in Cincinnati, Ohio. He attended the University of Cinncinati where he played for the baseball team. He still holds the University of Cinncinati record for the highest batting average of all time (.475).
After college, Allen started playing for the Cinncinati Reds in 1926. He played in the Major Leagues for thirteen years for a number of teams. In addition to the Reds, he played for the New York Giants, the St. Louis Cardinals, the Philidelphia Phillies, Chicago Cubs and St. Louis Browns. He retired with a .300 batting average. His best year was in 1934 when he hit .330.
After retiring from Major League baseball, Allen worked as the National League's director of motion pictures.
Allen also set to work building a board game. The game, All-Star Baseball, later renamed Ethan Allen All-Star Baseball, was released in 1941. The game was conceived by Allen sevearl years earlier when he was playing in St. Louis. The game had paper discs with statistics of Major League players, you put the disc on a spinner, whatever statistic it landed on was how the player did at bat. Allen had originally intended the game for boys ages 9 to 12. Like with many games of this nature, the game took on a cult following and boys who had played in the 40's and 50's continued to play it in the 60's and 70's. According to at least one account, Allen found people who did that "odd."
In 1946, Allen became the baseball coach for Yale University. He would lead the team to two championship games in 1947 and 1948. In the 1948 season, his team captain was future president George H. W. Bush. Under Allen the Yale baseball team would won 300 games. He would earn a place in the College Baseball Coaches Hall of Fame. Also in 1946 he appeared on the Wheaties box, it is believed that it was a promotion connected with his game All-Star Baseball..
Allen also wrote several books about baseball during his life.
Allen passed away on September 15th, 1993 in Brookings, Oregon.
Allen was amember of Yeatman Lodge No. 162, in Cinncinati, Ohio.