Hamilton Prioleau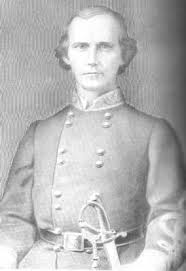 Born July 22, 1822 - Died October 3, 1897
Hamilton Prioleau Bee was an early politician in Texas and a confederate General.
At the early age of 17 Bee was appointed to the committee that determined the border between the United States and the Republic of Texas. Sam Houston also sent Bee, along with two others to negotiate a treaty with the Comanches in 1843. The treat they achieved was called the Treaty of Tehucana Creek.
Bee served as secretary of the first Texas Senate. After the Mexican-American war, in which he served, he would run and win a seat in the Texas House of Representatives for the Third Texas Legislature.
In 1861 Bee was elected Brigadier General of the Texas Militia. He would in 1862 be appointed as a Brigadier General in the Confederate Army. His primary duties, which he conducted from Brownsville in the beginning of the war were to keep the trade flow open of cotton for munitions with Mexico. After Brownsville was abandoned by Bee in the face of a Union expeditionary force he was reassigned. Bee had two horses shot out from underneath him during the Civil war, neither time was he seriously injured.
After the Civil War Bee moved his family across the border to Mexico, essentially in a self imposed exile. In 1874 when the Democrats started have a resurgence of power in Texas he moved the family back to Texas, into the San Antonio area.
Bee was a member of Austin Lodge No. 12 in Texas.