Frank G.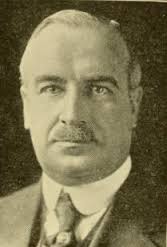 Born October 6, 1874 - Died October 9, 1950
Frank G. Allen is an American businessman and politician. He was the 51st Governor of Massachusetts.
Frank G. Allen was a businessman and executive with the Winslow Brothers & Smith Company in Massachusetts prior to moving into political life.
Allen Began his political life in Norwood, Massachusetts first on the Board of Assessors and then as a selectman. He would also serve in the Massachusetts House of Representatives and Senate. In 1924 he was elected elected lieutenant governor of Massachusetts.
In 1929 Allen would be elected Governor. In his term as Governor he established the Massachusetts Transit Authority (now the Massachusetts Bay Transportation Authority), the Massachusetts Port Authority and the state's Industrial Commission. He also expanded the facilities to care for the sick and indigent.
In an unusual move for the time, Allen would appoint two women as Judges.
After political life Allen would return to Winslow Brothers & Smith Company as a member of the board of directors.
Allen was a member of Orient Lodge in Norwood, Massachusetts.