Joseph Dorsett Bedle, Sr.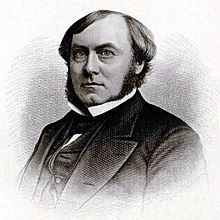 Born January 5, 1821 - Died October 21, 1894
Joseph Dorsett Bedle, Sr. was an American politician.
Bedle was born on January 5th, 1821 Middleton Point, New Jersey, now named Matawan.
In 1864, Bedle served as a delegate to the the Democratic National Convention in Chicago, Illinois.
In 1865, Bedle was appointed as an associate justice on the New Jersey Supreme Court. He served on the court for 10 years.
In 1875, Bedle was elected to a single term as the 23rd Governor of the state of New Jersey. He served in the office for three years.
Bedle passed away on October 21st, 1894. He passed away in St. Luke's Hospital in New York City, New York after complications from surgery.
Bedle was a member of Olive Branch Lodge No. 16 in Freehold, New Jersey. He was raised on April 24th, 1857.