Denton True "Cy" Young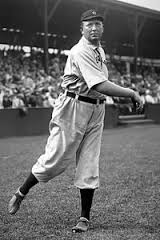 Born March 29, 1867 - Died November 4, 1955
Denton True "Cy" Young was an American baseball player.
Young was born in a farming community in Washington Township, Ohio. In his youth Young was known as "Farmer Young" and "Farmboy Young". His education would only go to the 6th grade. Young would move with his father for two years in 1885 to Nebraska before returning to Ohio.
In 1888, the first box score with Young's name on it appeared while he was playing for the semi-pro Carrollton. It was after that first box score that a minor league Canton team took notice of Young. He would start playing for them in 1889 season. During his tryout for the team, Young impressed the scouts. Young himself would later reflect on the tryout stating "I almost tore the boards off the grandstand with my fast ball." It was at this time that "Cy" would get his nickname. Writers described what he would do to the fences with his fastball as "looking like a cyclone hit them", the writers would eventually shorten that to "Cy".
In 1890, Young would make his professional debut with the Cleveland Spiders. After the first few weeks of Young's professional career, the player-manager for the Chicago Colts, Cap Anson, approached the Spiders manager about buying Young's contract. Anson would say "He's too green to do your club much good, but I believe if I taught him what I know, I might make a pitcher out of him in a couple of years. He's not worth it now, but I'm willing to give you $1,000 ($26,248 today) for him." Gus Schmetz, the Spider's manager replied "Cap, you can keep your thousand and we'll keep the rube."
Young would establish himself as one of the hardest throwing pitchers in baseball. It was claimed that, Young's catcher on the Spiders would put a piece of beefsteak in his glove to protect his had from Young's fastball. In 1892 the official pitching distance was changed to 60 feet 6 inches. It has been claimed that Young as well other pitchers of the time were the impetus for making that change. Regardless of the reason it was a piece of the changes that were being made from the older rules of baseball to the modern rules we know today.
Young would leave the Spiders and go to the St. Louis Perfectos, a team that was owned by the owner of the Spiders, he would stay there only two years.
In 1901, the American League declared themselves a professional league. Young would sign with the Boston Americans. In his first season there he would win the colloquial American League Triple Crown (wins, strikeouts, ERA).
In 1902, Young would work as the Harvard Pitching coach. That fact would be source of much delight in the Boston Newspapers, the fact that a man with a 6th grade education was instructing Harvard students. In 1903 he would be the pitching instructor for Mercer University in Georgia.
In 1904, Boston would lose to the Philadelphia Athletics in a one hitter pitched by Rube Waddell. Waddell taunted Young to face him so that he could repeat his one-hitter against the Boston ace. Three days later the men would face off. Young pitched the first perfect game under the modern rules of baseball. Waddell would be the 27th and last batter, as Waddell left the field Young shouted after him "How do you like that, you hayseed?"
In 1908, Young would pitch the third and final no-hitter of his career. At the age of 41 he would be the oldest pitcher to perform that feet. His record would stand for 82 years when Nolan Ryan, at the age of 43, would pitch a no-hitter.
In 1909, Young would leave Boston and return to Cleavland. There he would play the last two years of his career. In 1911 Young would retire with 511 wins, a record that still stands as the most wins by a pitcher.
Young passed away on November 4th, 1955 on a friends farm where he had been living. Young was 88 at the time of his death. One year later the Cy Young Award was created. Initially the award covered all of baseball, in 1967 the award was split, one for the National League and one for the American League.
Young was a member of Mystic Tie Lodge No. 194 in Dennison, Ohio he was raised February 29th, 1904.