Clinton Presba Anderson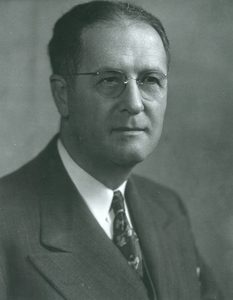 Born October 23, 1895 - Died November 11, 1975
Clinton Presba Anderson was an American politician.
Anderson was born on October 23rd, 1895 in Centerville, South Dakota. He attended local public schools before first attending Dakota Wesleyan University and then the University of Michigan, he did not receive a degree from either University. At the University of Michigan, in 1916, he was unexpectedly called home when his father broke his back. Anderson immediate returned home to help support the family. On his return home he went to work for a local newspaper. He was forced to resign when his health took a turn. In wasn't until 1917 he discovered his health issues were due to tuberculosis. This was discovered when Anderson attempted to enlist in the Army to serve during World War I.
After being diagnosed with tuberculosis, Anderson was encouraged by at least one doctor to check himself into a Methodist Sanitarium in Albuquerque, New Mexico. Doctors at the time gave Anderson only six months to live. In 1919 he was well enough to leave the sanitarium. He then got himself a job working as a reporter for the Albuquerque Journal, which was then known as the Albuquerque Morning Journal. He was promptly sent to Sante Fe to cover the state legislature. Anderson was unhappy with the way the Republicans were running the state and became friends with many New Mexico Democrats and gave them ideas on bills for the legislature and some even became state laws.
In 1919, Anderson moved into public service becoming the secretary of the New Mexico Public Health Association. There he raised money to fight tuberculosis and was instrumental in founding the state public health department.
In the early 1920's Anderson worked in a variety private business affairs including the insurance business and joining the Rotary Club. In the 1930's he was elected to the International Board and later became President.
In 1940, Anderson was convinced to run for the sole United States House of Representatives seat for New Mexico. He won the seat and served until 1945. During his time in the House he served as Chairman of the Special Committee to Investigate Food Shortages. This work led President Harry Truman to appoint Anderson as his Secretary of Agriculture in 1945. On both the special committee and as Secretary of Agricultural Anderson used his skills to change the status quo and solve problems. It was said by various peers of Anderson, he was able to identify a problem and then work tirelessly to educate himself about the problem and then take whatever steps necessary to implement changes to the system. Anderson retired as Secretary of Agriculture in 1948.
Anderson considered making his retirement permanent, instead he successfully ran for a United States Senate seat. He served in the United States Senate from 1949 until 1973. During this time he most notably was Chair of the Senate Committee on Aeronautical and Space Sciences from 1963 to 1973. This put him in charge of one of the most important committees of the Space Race and the exploration of space. Anderson retired from the Senate due to health concerns in 1973.
Anderson passed away from a stroke on November 11th, 1975.
Anderson was a member of Albuquerque Lodge No. 60 in Albuquerque, New Mexico. He was a member of Rio Grande Chapter No. 4, Royal Arch Masons, Pilgrim Commandery No. 3 and Red Cross of Constantine in the York Rite. He was a member of the Ancient Accepted Scottish Rite receiving his 33° in 1945. He was a past potentate of Ballut Abyad Shrine Temple. He was also a member of the Tall Cedars of Lebanon, National Sojourners and Royal Order of Jesters.