Noriyuki "Pat" Morita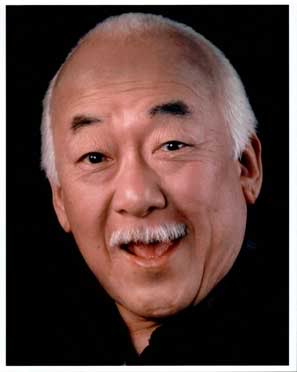 Born June 28, 1932 - Died November 24, 2005
Noriyuki "Pat" Morita was an American television and movie actor.
Morita was born on June 28th, 1932 in Isleton, California. At the age of two he developed spinal tuberculosis. He would spend the next 9 years in and out of hospitals. Several times he was told that he would probably never walk again. Among the hospitals that he was treated as the Shriner's Hospital in San Fransisco. It was from there that he was taken to rejoin his family in Arizona at a Japanese interment camp during World War II.
After the war Morita's family ran a restaurant called Ariake Chop Suey, a restaurant in Sacramento, California. As a teenager he would act as a master of ceremonies for groups that were meeting at the restaurant, as well as telling jokes to customers.
In the early 1960's Morita started performing stand-up comedy. He was billed as "The Hip Nip." He performed at nightclubs and bars. He was also part of an improvisational group called The Groundings.
In 1967, Morita landed his first movie role as a stereotypical henchman in Throughly Modern Millie. Almost 10 years later he stared in the movie Midway about the World War II battle playing Rear Admiral Ryunosuke Kusaka. His most famous role in film was as Keisuke Miyagi (Mr. Miyagi) in the Karate Kid, as well as the three sequels.
In the early 70's Morita began appearing on Television. Starting with the television series M*A*S*H where he had a recurring role as a South Korean officer. He also appeared on Sanford and Son and on two seasons of Happy Days as recurring characters. Morita's television career last until the time of his passing in 2005. He played a wide range of characters on television, some in starring roles and others in guest appearances and recurring characters. His final television "appearance" was as the voice of Master Udon on the animated series Sponge Bob Square Pants. The episode was dedicated to Morita as it aired 6 months after he passed away.
Morita passed away at his home in Las Vegas, Nevada from kidney failure. He passed away on November 24th, 2005.
Morita is listed on many sites and posts around the internet as being a Freemason and a Shriner. At the time of the writing of this article his lodge affiliation could not be determined. That being said, Morita was a very big supporter of the Shriner's Hospitals. After his passing his family created a fund in his name to support the Shriner's Hospitals and the good works that they do for children. All treatments that are provided at Shriner's Hospitals are given at no charge to the patients and their families.