Arnold Palmer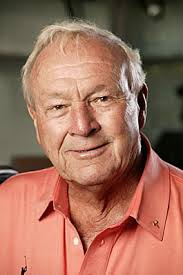 Born September 10, 1929 - ?
Arnold Palmer is a professional golf. He is widely regarded as one of the greatest players of all time.
Palmer has won numerous awards on the PGA Tour and Champions Tour.
Nicknamed "The King", he was also a trailblazer in the sport of golf. The first superstar in the sport when golf was starting to be televised back in the 1950s. He had a profound influence on changing the image of golf from an elite, upper-class sport to something middle and working class people could enjoy.
Due to Palmer's plain spoken demeanor and humble background he had an unrivaled effect on the social impact in the game of golf.
In 1998 Palmer received the PGA Tour Lifetime Achievement award, in 1974 he was inducted to World Golf Hall of Fame and in 2004 he was the first golfer to receive the Presidential Medal of Freedom. In 2009 he received the Congressional Gold Medal, he was the second golfer to receive that award.
Palmer is a member of Loyalhanna Lodge No. 275, Latrobe, Pennsylvania.