Willie Mays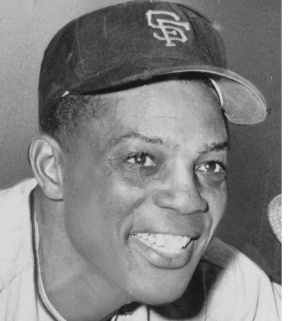 Born May 6, 1931 - Died
Willie Mays had a long career as a baseball player.
Willie Mays began is career in the Negro Leagues in 1947. This jeopardized his ability to play high school sports since at the time he was only 16. Even then he was a draw for crowds. Many high school administrators were not happy with the situation since they wanted him to bring in ticket sales for their schools.
After being scouted by several Major League teams Mays was signed by the New York Giants. One of the teams that was scouting him was the Boston Braves. If the Braves had succeeded in getting Mays in their club they would have had Hank Aaron and Mays in their outfield.
In 1951 Mays started playing with the Giants AAA affiliate in Minneapolis. By the end of May he would be heading to play in his first Major League baseball game in Philadelphia. Mays got the news while at the movies. Message was flashed up on the screen at the theatre "WILLIE MAYS CALL YOUR HOTEL".
Mays would play for the New York Giants until 1972 when he was traded to the New York Mets who had promised him a job coaching after retiring as a player.
September 25th 1973 was Willie Mays night at Shea Stadium honoring the accomplishments of Mays. May still holds the record for putouts by an outfielder at 7,095. He is also the only Major League player to have hit a home run in every inning starting at 1 and going to inning 16.