Albert Gallatin Mackey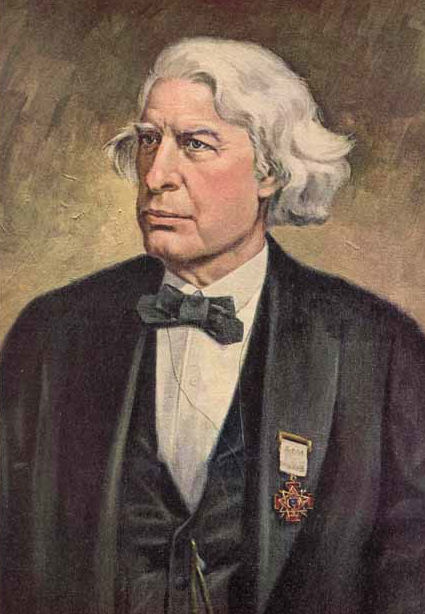 Born March 12, 1807 - Died June 20, 1881
Albert Gallatin Mackey was an American physician and author.
Mackey was born in Charleston, South Carolina on March 12, 1807. After completing his primary education, Mackey worked as a teacher while he earned enough money for medical school. In 1832 he would graduate from the College of South Carolina. Six years later he would return to the school as the demonstrator of anatomy.
In 1844, Mackey left the medical profession. For the rest of his life Mackey would write books on a variety of subjects. The three primary subjects for his books were languages, the Middle Ages and of course Freemasonry.
In 1849 Mackey would begin publishing a weekly magazine called The Southern and Western Masonic Miscellany. He would publish it for three years, mostly at this own expense. He would create another magazine called Quarterly which he would publish from 1858 to 1860 that simialr in content to The Southern and Western Masonic Miscellany he had published nearly a decade before.
Mackey had a talent for picking up foreign languages on his own. He would learn Greek, Hebrew, Latin and other continental languages. He would lecutre frequently about the intellectual and moral development of the Middle Ages.This would lead Mackey to study abstruse (obsure) symbolism as well as items that were cabalistic and talmudic.
Mackey would write many books on the subject of Freemasonry. One of the biggest and most important is the Encylopedia of Freemasonry. He would also write books about York Rite and Scottish Rite Freemasonry.
Mackey passed away on June 20th, 1881.
Mackey was raised in St. Andrews Lodge No. 10 in Charleston, South Caronlina. He was the General Grand High Priest of the General Grand Chapter of the United States. He was a 33° Scottish Rite Mason in the Southern Masonic Jurisdiction. Mackey served in a variety of roles in the Masonic fraternity. He would serve as the Grand Lecturer and Grand Secretary of the Grand Lodge of South Carolina. He would also serve as the Secretary General of the Supreme Council of the Ancient Accpeted Scottish Rite for the Southern Juridiction of the United States.