Alexander Nasmyth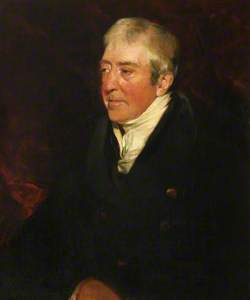 Born September 9, 1758 - Died April 10, 1840
Alexander Nasmyth was a Scottish artist.
Nasmyth was born on September 9th, 1758 in Edinburgh, Scotland. He studied at the Royal High School before going on to the Trustee's Academy (now the Edinburgh College of Art. After school he was apprenticed to a coach builder. At the age of 16 he was taken to London by portrait painter Allan Ramsay. There he worked on the minor parts of Ramsay's works.
In 1778, Nasmyth returned to Edinburgh, where he began working as a portrait painter. He was given a loan and using the money he traveled to Italy where he continued his education for another four years. When he returned to Edinburgh, Nasmyth once again became a portrait painter. One of those portraits was of Robert Burns. Nasmyth had strong liberal opinions though, which did not sit well with his wealthy patrons. Eventually most of his portrait work went away and he began to paint landscapes. Many of his landscapes were of actual places with proposed new structures. Nasmyth was hired to paint what the new landscape was going to look like, essentially an artists rendering of a new building.
Nasmyth also had a great interest in engineering and provided many ideas that would be used in new technologies. He never patented any of his ideas. In 1788 when the first successful steam ship sailed on Dalswinton Loch, Nasmyth was one of the crew.
Nasmyth also did beautification projects on the estates of Scottish nobles. He designed various architectural pieces as part of the beautification process.
Nasmyth set up a drawing school, where he taught the idea of landscape painting as a tool for empirical investigation. He had several famous students who attended his school.
Nasmyth passed away on April 10th, 1840 in Edinburgh.
Nasmyth was a member of Canongate Kilwinning Lodge in Edinburgh, Scotland.