Alfred Ernest "Alf" Ramsey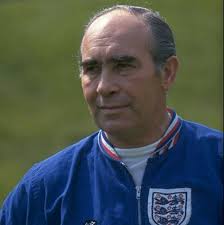 Born January 22, 1920 - Died April 28, 1999
Alfred Ernest "Alf" Ramsey was a British football player and manager.
Ramsey was born on January 22nd, 1920 in Dagenham, England. As a youth he was a gifted amateur player. At 22 he played for his army regiment in the London War League.
In 1944, Ramsey would become a professional player. He would make his debut with the England national team in 1948 against Switzerland. He was captain of the team three times. His final game as a player for England was in 1953 against Hungary. England lost the match 6-3.
In 1955, Ramsey retired as a player to become the manager of Ipswich Town Football Club. With the club he brought them from a third division south team to the top of English Football. He would spend 8 years with the team and would win titles in the third and second division before moving to the top level. He left the team in 1963.
In late 1962, Ramsey was appointed the manager of the England national team. He stunned everyone when he announced that England would win the next World Cup which was scheduled for 1966 in England. Up to that point England's performance on the World stage had been poor.
Ramsey was a firm but fair manager, few who played for him ever spoke poorly of him. An example of his methods as summed up in an anecdote from 1964. He had called a meeting of the team in the hotel where they were staying. Three of the key players for the team failed to show up to the meeting. When the three returned to their rooms they found their passports waiting for them on their beds. Ramsey always made it clear that there were no favorites and talent alone did not get you special privilege on the team.
In 1964, England played in the European Championships. They would have a less than stellar showing in the Championship. This caused many to speculate that Ramsey's prediction two years early would not be coming true.
In 1966, Ramsey in the preparation for the World Cup continued to use his firm but fair approach to the game. He made it clear that no one was guaranteed one of the 22 final spots on the team. In the first round of the World Cup, England was held to a 0-0 draw further casting doubt on Ramsey's earlier prediction. On July 30th 1966 Ramsey's prediction came true when England beat the West German team 4-2. Ramsey is the only England manager to win the World Cup.
In the 1970 World Cup, England lost in the quarter finals. In the 1974 World Cup, England would not qualify after a draw, a loss and finally a draw against Polish national team knocked them out. Just a few months after the draw with Poland, Ramsey was fired by the English Football Association. It was largely believed that he was fired due to officials who apparently held a grudge against Ramsey. British Journalist Leo McKinstry once wrote "England's most successful manager would have had a legacy fit for a hero had it not been for the malevolence of the FA chief Harold Thompson.
On June 9th, 1998, Ramsey suffered a massive stroke. At the time he was already suffering from Alzheimer's Disease. He passed away almost a year later, on April 28th, 1999, due to a heart attack and while suffering from prostate cancer.
Ramsey was initiated into Freemasonry in 1953 in Abbey Lodge No. 2750. He was raised in October, 1954. In 1981, Ramsey resigned from Freemasonry. After his passing, his wife donated various masonic regalia to his former lodge, including his Master Mason apron and his Grand Lodge Certificate. As of 2010, the items were on display in the Masonic Hall in Chingford, Essex, England.